Photo manipulation Photoshop – stars are left without trousers
Are you ready to put all your duties aside and have minutes of sincere laugh with Photoshop manipulation ideas that will show how do celebrities and famous heroes look without their pants? Already intrigued? Definitely you will not be disillusioned as soon as you assess all samples of creative photo manipulation and discover that Photoshop is able to do everything without exuberating.
All examples will be devoted to a special "no-pants" trend that really has conquered the world having thousands of followers in different countries starting from the USA to France. In order for you to feel this cheerful atmosphere and have the first glimpse of what we are going to present you, watch this video that shows how "No pants day" was carried out in London last year. Definitely, you will be shocked how people may behave in such a careless, but still fun way. Who knows, maybe this will inspire you for organizing the same day in our city or town.
Why do people need this trend?
Definitely there is no clear and strict answer for this special "phenomenon". But we are deeply concerned that such funny holidays are organized in order for people to get relaxed from daily work and to have a legal opportunity to do something crazy, something that breaks all stereotypes, rules and customs. We know that daily routine is when you know what will happen in your life the next day, week, month and even year. Maybe for some individuals that are rather obedient and love all regulation, such way of things is comfortable, as stability is their friend. That is true for some people, but the majority of working class as well as students quickly get bored with such non-changeable schedule.
Therefore, establishing of this trend was inevitable. People tend to have some special days during which they have a chance to avoid rules. Just imagine how crazy it is when all people are walking on the street in their ordinary clothing, but without one important detail – without their trousers. If you consider that this is ridiculous, we are quick with the answer that you are right.
But do not think that only few people, that are the craziest, follow this idea. Every year thousands of people support "no pants day" and walk only in their underwear. They walk like that in the most crowded places like in underground, cafes, restaurants and so on. The thing that surprises most of all is that people around them accept such behavior with a genuine smile and friendly support. We would like to resent one more video for your pleasure that will explain how this day is celebrated in Vancouver. That will prove that "no pants" is a massive trend.
No pants" day – dates, facts and history
This trend has not rich and long history, but still it is worth our attention. Everything started at the beginning of this millennium. In 2000, students from the University of Texas established a special holiday, which further was called "No Pants Day". They simply decided that spending the whole day in their underpants is a good and suitable way of celebrating the end of a hard and tedious semester. As it turned out lately, their example was rather contagious. This way, nowadays on May 1 in many Western universities students with bare legs can be seen.
Very soon the New York art group called Improv Everywhere decided that not only students can have fun. So, participants of this group began to hold the event with the slogan "In the subway without pants" every year.
The first flash mob of this kind was hold in New York. No wonder, as this city has always been famous due to its frivolous traditions and tolerance towards crazy innovations. Thus, this city was a brilliant choice for organizing this unusual event in 2002. And only today you have a great chance to see how it was there in the far 2002.
Soon after the first flash mob, the hair-raising idea to spend one day a year without trousers has spread to more than 60 cities in Europe and other continents. To compare, only 7 people took part in the first "Day without pants", but this year there are more than 4000 young people in the ranks of activists that support this event and take active part in it.
The idea of flash mob is quite simple and understandable. All brave participants do not wear pants or skirts, appearing in public crowded places only in underwear. Still, there is one rule. Participants are allowed not to wear only pants. Thus, the rest of clothing must be left. That is rather important as usual such days are hold in the middle of winter.
As the participants of the event say that their only goal is to cheer up themselves and surrounding people that are too busy with everyday routine. This way they are able to dilute the daily routine bringing something unusual to it. Besides, to know more about interesting picture manipulations, read World of surrealism – best easy surrealism photography ideas.
"No pans" - photo manipulation techniques
Obviously digital photo manipulators could not avoid this trend that has so enormous popularity. Thus, in order to make their services more demanded, they decided to get inspired by "the day without pants".
Among contemporary photographers this new trend is gaining significant strength. Their main aim is to leave a definite celebrity without skirts or pants. It is necessary to edit the photo in such a way that the celebrities lose their trousers. In other words, they remain literally in their underpants. Recently, on the Internet similar processed photos of movie stars, music and even animation can be found more and more often.
We proffer samples of this trend that are the most discussed and popular for your assessment. Who knows, maybe they will become your photo manipulation inspiration.
1) Emma Watson
Nowadays you can hardly find a person that will not recognize this famous actress and her most popular role of Hermione Granger. Still, it is rather unusual to see this obedient and strict actress in such an image, in which passion is foregrounded. Experienced editors will access the professional use of skin retouching online and not less effectual body retouch. A really appealing photo manipulation Photoshop, who can argue?
2) Daniel Radcliffe
To continue the theme about Potteriana, enjoy the photos of world-known harry Potter. Everything is as usual, serious eyes, famous glasses and a magic wand. Still, there is one detail. That is the absence of trousers, do you like it? Whether you like it or not, you will agree that this imagine suits him better than a look of ordinary con.
3) Wolverine
Are you fond of American comics created by Marvel Comics? Then you should know who Wolverine is, as this fictional character has conquered people`s hearts all over the world. Still, we are used to the image of powerful mutant that has rather improved physical capabilities in combination with threatening bone claws in hands. Thus, it is easily to notice people`s astonishment as soon as people see this well-known hero in pink underpants. The incredible hulk in pink underpants is hilarious, isn`t it?
4) Angelina Jolie
We all know this, without exuberating, world-famous actress. We are used to reading news about her and her private life, we are used to hearing about her exploits in rescuing African children, we are used to admiring her on various covers of fashion tabloids and magazines. And, of course, we know her most famous role, which is Lara Croft. Firstly, that as just a fictional character from the game called Tomb Raider, but as soon the film with Angeline Jolie appeared on our screens, everything has changed. This awesome image became a great photo manipulation inspiration. Therefore, a lot of talented editors started to use this image in their creative photo manipulation. And that is one variant of it, you are welcomed to enjoy it.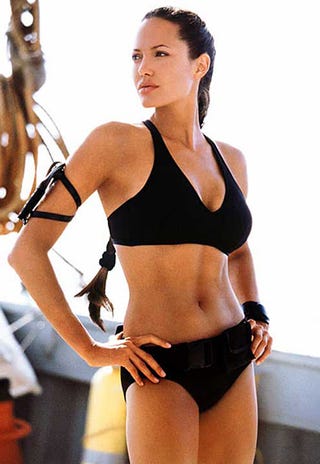 5) Andrew Lincoln
Rick Grimes is one more sample of a popular hero. He is a sheriff in a small town, who has a normal family. But the town he works in is rather strange. That is a basement for creating a fascinating plot that has been used for comic book series and later TV series called The Walking Dead.
6) Tobey Maguire
This legendary American actor has one role that has made him enormously popular. This is the role of Spiderman. Millions of young girls dreamt of being rescued by this handsome actor. He is on the list of 9 best actors that played Spider-man. But still, depending on our subjective view, Tobey is the first to be associated with the role of Peter Parker. So, no wonder that editors could not leave him without attention and applying photo manipulation Photoshop.
7) Mila Jovovich
This young American star has a number of titles and talents. She is a Ukrainian-born actress, designer, singer and model. Still, the same story has happened with her. Most of people know her as Alice from the Residents of evil. And any different role was not able to change this situation.
8) Heath Ledger
Yes, even this legendary Australian actor was not missed in this list. We know Ledger due to his role as a Joker in the film called The Dark Knight directed by Christopher Nolan in 2008. The film had enormous success as well as its main bad hero. People liked him because of his careless character, unusual humor and impudent behavior. Thus, even a picture on which he is without pants looks quite normal for him, at least in comparison with other actors and actresses in this list.
Celebrities after photo manipulation techniques – who is the best?
People react to such Photoshop manipulation ideas in a different way. For some internet users these photos are just a funny, but kind joke. They accept celebrities in underwear as something to laugh at and nothing more. The others, on the contrary, consider this photo manipulation Photoshop to be something totally stupid. They cannot understand for what it is necessary to provide such manipulations. Additionally, such creative photo manipulation can be understood as a real reason for getting offended. Actually, the whole industry of nude is on the verge of heated discussions. To know more read Masterpiece or vulgar photo? Fine art nude photography.
Certainly, it is only up to you in what way you may treat these recently appeared photo manipulation techniques. The only fact that we may be sure about is that not a single star has claimed about possible offence caused by these Photoshop manipulation ideas. On the contrary, celebrities are only happy to have an extra reason to be discussed on the internet and in magazine news.
And today we are eager to find out your opinion about this trend and photos that have been done with its influence. For doing this we would like to present you five the most unusual, hair-raising and impressive photos with "no pants" trend that are worth being added to every digital retouching portfolio, as an example of using complicated techniques and endless imagination. We asked you to vote for the most appealing and interesting photography, according to your taste, of course. You may do this in the comments below the article. Definitely we will be pleased to know your opinion.
1) Napoleon Bonaparte
That is an example of pride, power and absence of pants.
2) The Pope
That is the joke on the verge of breaking moral rules. Still, it looks funny. Who knows this brave photo manipulator?
3) Batman
A very extraordinary decision to depict Batman in underpants with spider-man. But who knows, maybe Batman is a secret fan of Spider-man?
4) Will Smith
A handsome actor in white stockings is a combination for the bravest only.
5) Merlin Manson
The dark and too much depressive image of this singer is completely ruined by colorful underpants. Isn`t it funny?
6) Minions
Yes, even such cute minions are in the contest. But still they are endearing both in underpants and in other clothing.
We hope that these funny photos will become your photo manipulation inspiration. If you want to do the same and have positive results of your works, we are expecting for your pictures to be shared in comments. In case you want to have photos of your friends or relatives to be manipulated in the same way, but you have no skills to do this, then we will do instead of you. Upload your images to us and have them changed with fast service and surprising low photo retouching rates.
Like and share the post
You are welcome to rate this post
The post's average rating:
---