World of surrealism – Best easy surrealism photography ideas
Modern surrealism photography as well as surreal painting, filled with an odd accumulation of objects. It invites the viewer to journey into the region of the subconscious and irrational. In these works, the authors turn away from reality, turning to his/her fantasies and dreams, drawing from them the symbols and putting them into artistic images. Nude photographers using Photoshop, professional body retouch and the beauty of the naked body create incredible surreal worlds.
Photography as art is objective, it was necessary to find their own means to display surrealism (from the French. "supernatural"). Such techniques include receiving multiple exposure (method, based on obtaining images resulting from sequential shooting multiple objects at one and the same piece of film; with repeated exposure the entire frame one image superimposed on another, the result is a frame consisting of several mutually translucent images), and photo montage.
1948. © Philippe Halsman/Estate of Philippe Halsman
The first surreal photography ideas had master of staged photography, Philippe Halsman, who has published the book "Mustache Dali" (Dali's Mustache), dedicated to the famous surrealist. Artistic rendition of the photo match the subject: one portrait with the artist is a combination of the bodies of seven nudes, reminiscent of a human skull. Another shot close up of the face of Dali is a clock face, and whiskers act as the shooter. The portrait "Given Atomicus" was made on the basis of the structure of the atom, in which around a positively charged nucleus in the vacuum of space moving negatively charged electrons. To show this constant movement, Dali jumped up, the assistants were thrown into the air the cats and furniture, one was pouring a bucket of water.
Halsman shot this story with a strong pavilion of flashes that all artificially created situation depicted absolutely dramatically.
The idea of a picture "have atomicus" proved successful, and in 1959, Halsman published a book "Jumps" (Jump Book), is composed of portraits of celebrities photographed at the time of the jump. Fancy him jumping Halsman explained by the fact that at the time of the jump people are relaxed and it becomes possible to capture their naked essence, "to see their true face."
The portraits are done in a surreal style by famous English photographer Angus McBean. McBean used a method of multiple exposure and montage to connect on one shot portrait and surreal landscape (as, for example, the photo "portrait of the actress Audrey Hepburn"). McBean shot a lot for the theatre, his ghostly and layered on top of each other images of scenes from the plays became the hallmark for many productions.
The nude surrealism photography ideas have undergone significant changes. In the works of English photographer Bill Brandt, these changes are reflected primarily in the intentional optical distortion of the proportions of the models and the deformation space. Brandt photographed Nudes in the camera "Kodak" with an unusually broad lens. The result of his experiments was a photo album of "the naked Future" (Perspective of Nudes), published in 1961.
Before the experiments of Brandt possible optical distortion investigated Hungarian photographer Andre Kertesz. He created the whole "Kingdom of crooked mirrors" — a series of acts in which naked female body fancy distorted in the lens and multiple mirrors. In the same way Kertész photographed the watches, which remind us of the Salvador Dali's painting "Persistence of memory".
In 1950-60 to surrealism appealed famous Czech Josef Sudek. In a series of "Magic garden" Sudek creates surreal photography ideas resulting from the arbitrary from the point of view of ordinary logic connections in the pictures of various items. In one of the photos of the cycle "the Magic garden" in the foreground you can see an ancient statue and a stone ball. The tree behind them bowed so low to the ground that the branches form a tent that hides the statue and the Orb.
Photographer by chance put the statue in a cramped space under the "tent" — it seems disproportionate. This disproportion creates the feeling of a strange, unreal space. All this is somewhat reminiscent of the paintings of protocol related Giorgio de Chirico, with its symbolic metaphysical, static and intimidating space, antique statues and mannequins.
The other picture of this series in the foreground is the curved trunk of a tree and its bizarre shape resembling a monster, this feeling is a pinned barrel glass eye. The dark silhouette of the beast is opposed to the light the figure of a man sitting on a white chair. The man sits with his back turned to the viewer, but on the back of his head attached glasses. Using the technique of multiple exposures, Sudek achieved a sense of ghostly figures sitting on the chair person.
Compatriot Sudeck surrealist artist Jindrich Styrsky roamed the streets of Prague with my camera in search of something unusual hidden in everyday reality: peering into the Windows of independent bookstores, with their strange mannequins, taking pictures of dolls and masks, often from this angle, it is impossible to understand where the shot particular subject. Creativity and Sudeck Stalskogo reflects two different approaches to the image of surrealist: in the first case, the artist captures the picture shows an artificially created fantasy world, and the second world created by his imagination.
English the master of photography Tony Ray-Jones found in everyday life scene, producing the impression of an absurd and unrealistic. For several years, ray-Jones was collecting material for the book "the English", in which he created an unusual, surreal portrait of England: "I think there is something special and quite comic in the English way of life".
Photographers-Surrealists made an enormous contribution to the development of art photography and new surrealism photography ideas in the twentieth century. Attractive unconventional techniques, it is often used in advertising and fashion photography, because the images surreal photos evoke in the viewer an unusual semantic and visual associations.
Easy surrealism photography ideas – Tips how to create surreal photos
Surreal photo long trend, but have you thought ever how to achieve such a result? Actually it's not as easy as it seems, this process requires several options of pictures, and good knowledge and skills of work with graphic editors like Photoshop, and most importantly it's a great fantasy. If you are interested in modern surrealism photography then you can find a lot of useful tips that will help you to create incredible surreal photo.
Where to start?
First you need an idea. Sit down and think over what you want to see on your picture. Then draw a rough sketch of your easy surrealism photography ideas and work out all the details in Photoshop.
Photo by Photo Extremist
Bokeh effect
The following is what we should think is the depth of field and the bokeh effect. Good to know it in advance, so I suggest you find books or look for more articles on the Internet on this subject, because this is very important. Or you can see some examples in our digital retouching portfolio
Playing with light
When you finish the photo shoot, you should look into post processing photos. To create a truly incredible surreal photo you need to be a professional in Photoshop and now you should apply all your knowledge. Work with color correction, change the exposure, shadows, add more of a particular color, some tips here, because this is a pure work of your imagination, it all depends on you and your ideas, so go ahead show me what you can do. You should understand how it is important to work with the light so we have another article about «What do we know about window light for portrait photography?» for you.
Photo by David Blackwell.
To show imagination
Use all possible tools to make your photo special. But do not forget that the photo is not just supposed to be strange and unusual, it should have its own interesting story that anyone can read by just looking at the photo.
Many people have many opinions
If you create modern surrealism photography, with its own special story, be prepared that not all people might like it. Surrealism is a deviation from the norm, and many people live with stereotypes and they may not like it, so never take to heart the opinions of others, if you have your own audience and there are people who like your photo, be happy and don't stop there, and always remember that little part of genius was recognized during their lifetime, they were just ahead of the fashion trends of their time.
Photo by Misha Dontsov
Famous surrealist photographers – Nude
To inspire you on good surreal work we have found the top famous surrealist photographers. They work in different styles such as surreal black and white photography and other, but they have one similar thing, it is their photos, which look like a really masterpiece. So below you can read about these photographers.
1. Man Ray
Man Ray (1890-1976) is a French and American artist, photographer and filmmaker, whose work has had a tremendous impact on avant-garde art of the XX century, from Dadaism and surrealism to abstract and commercial photography.
He managed to become the most popular photo-artist of his time, while he always considered himself first and foremost a Creator. Each of his easy surrealism photography ideas does not simply reflect reality but gives a concept about the inner world of ray, his vision of the world. He said: "to create a new God's destiny, and to reflect the existing human".
Surreal black and white photography
Contrasting and bold parallels in the works of Ray revealed his exceptional talent. In this work, a model was made by one of the beloved artist. Using only paper and a reflection of the existing world, man ray showed his personality and showed that it is possible to create brilliant paintings, without resorting to supernatural means.
2. Max Sauco
Each work, created by Russian photographer Max Sauco, literally at first sight catches the attention of viewers. Looking at these surrealism photography ideas is really long, and everyone sees them. He loves to talk Max himself: "In my photos, people see their own world".
Max Sauco – the inhabitant of Irkutsk, which is heavily studied painting, art, photography, and was fascinated by the esoteric, mysticism and psychology. All these ingredients mingled in his mind, sooner or later had to declare it. The first shot was the max attempt in 1998 to create on the computer a hybrid of photography and painting sketch. This process so impressed the artist that he is today and continues to improve his technique in this direction.
Max Sauco has long been a cult figure in the world of photography, and starting price of every photo starts at least with two thousand dollars. And although different people have his paintings evoke different emotions, many prestigious photo naked in the collection of the masters speak for themselves.
3. Alexandra Manukyan
In pictures of Alexandra Manukyan explores the idea of human relationships, disguised subliminal game of our carnal desires.
Honing your skills in art school at age of 11, Alexandra Manukyan had no idea that she eventually she opened her own Studio, teach art, take part in numerous exhibitions, organizes your own and will be painting professionally.
Alexandra Manukyan was born and raised in Armenia and from an early age was interested in art for many years she studied painting, graphics and sculpture. After immigrating to the States, she continued her education by choosing a specialization in the field of fashion and graphic design. She is not a famous surrealist photographer, but her works are such interesting and have a lot of inspiration ideas, so we couldn't leave this article without her.
4. Matthew Stone
British photographer Matthew Stone, living and working in London has a certain talent the ability to sing of the beauty and naturalness of the human body in his paintings and photo collages. Some experts from the art work characterize Matthew as a kind of landscape, thanks to innovative approach to demonstrating the models of the photographer, very artistic and unlike anything similar.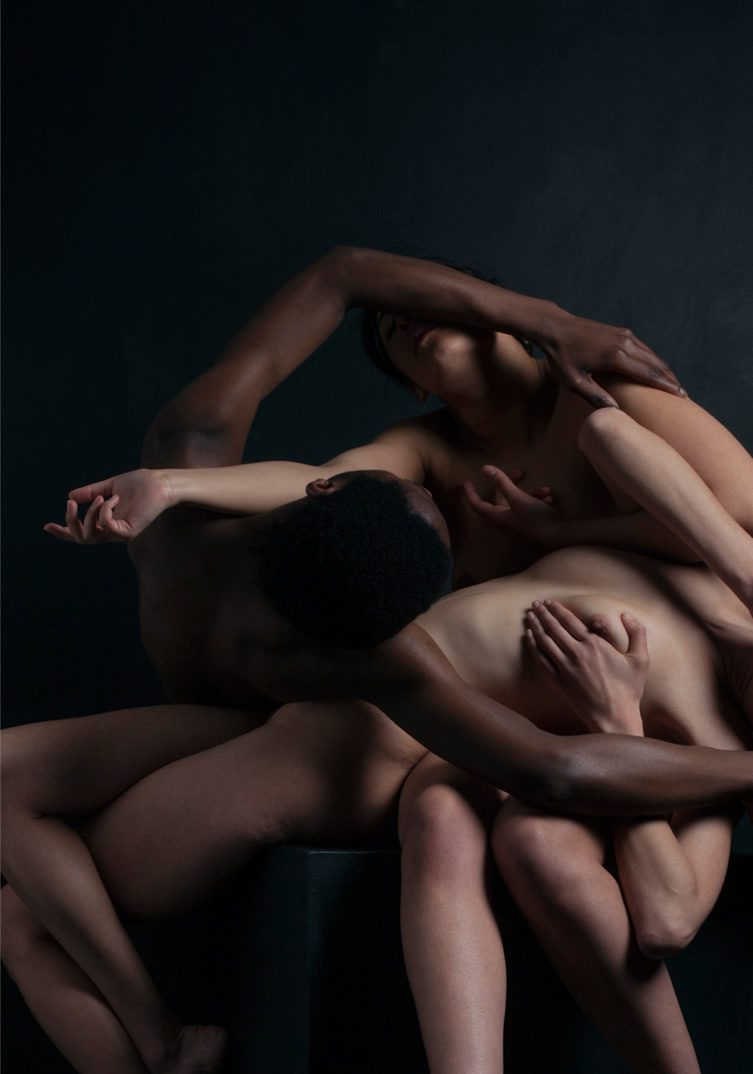 His first solo exhibition, the talented Briton was organized in 2007, loved for himself London. In those days, gallery of the UNION posted on their walls the best photos, combine them the common name Futurehindsight. Two years later, Matthew stone has been named as one of the most influential young artists up to thirty years, according to the experts the Sunday Times.
Two years later, the gallery of The Hole invited a great many admirers at the next major exhibition by Matthew Stone, titled Optimism as Cultural Rebellion, but the most significant for the career and creative recognition of our hero was the BODY LANGUAGE exhibition, organized by the Danish art gallery V1. The exhibition includes photographs of the stone, and his sculptural creations and collages, a kind of singing of the beauty and naturalness of the naked human body. Creations of stone is characterized by monumentality, power, but at the same time, there is something that can be described as "human landscape".
5. Silvia Grav
Silvia Grav creates incredible art surreal black and white photography. In her works the tenderness intertwined with the madness and the pain one man rises up to the scale of the Universe. The art of photography Sylvia if you are not able to turn the world upside down, it is cool to change the angle of view on it.
Sylvia focuses on the emotional state of his characters. Often the only key to understanding a particular work is the look of a man with art picture. Calm eyes among her photographs are difficult to find. On one part of the work the fear in the eyes of the characters borders on insanity, on the other - the indifference brought almost to a state of death, and the third eye are absent altogether. In each photo has its own tragedy. If you want to have such deep photos, you have to understand how to retouch black and white photos, about this type of retouching you can read more detailed in this article «Edit photo black and white inspiration 2017 - language of human body».
Her pictures devoted to the rather superficial hysteria. It the pain which you feel in the world. For example, a major project on the Holocaust. Black-and-white photos extend the senses to the scale of the universe. The pain of betrayal, loss and loneliness due to the monochrome range is enhanced significantly.

Surreal photography ideas of Sylvia's Grave speak to the audience about what lurks in the depths of the soul of each person. This emotion, which is not accepted to be shown: the person is vulnerable and exposed to many terrible things. And to recognize this is to become stronger.
This theme is so interesting, so we can write about it long time, but it has not such expressive result like when you try to create such incredible images. In this case, the main practice and the more you practice Photoshop and other programs, the more likely your photos will become property of art. If you need some help in skin retouching online or in other type and level of retouching, we can help you. In our web site you can find a lot of interesting and useful information, which can help you in your learning and of course you can find there photo retouching rates. We wish you good luck in your work and hope for co-work!
Like and share the post
You are welcome to rate this post
The post's average rating:
---