Why Does Mom Boudoir Photography Become Popular?
For some reason, when women hear the word "boudoir," they giggle, drop their eyes , and cover their mouths with their hand. Some can even blush. Men are on the contrary, smirk, and there is a spark appears in their eyes.
This reaction can be understood because the word boudoir is associated with something hot.
In general, the word "boudoir" appeared in the 18th century, and it had French origin, and it denoted a women's room where a woman bathed and cleaned herself. Later, this word changed into the one with dirty meaning, because it became understanding as the courtesans rooms. Maybe that's why when we hear the word "boudoir" we think about something that's inappropriate and dirty, though, in fact, it's not.
What Is the Matter Of This Kind Of Photography?
What's the point of boudoir photography? Its goal is to show womanhood, and nothing more.
When we taken picture of men, we use the machines, the muscles, we try to show his power and the masculinity, the same task has boudoir photography.
Photo by Maggie
Yes, a boudoir photograph means pretty underwear, or perhaps a short transparent night gown, but these pictures mustn't be aggressive. Normally, such photo session is meant to be naked, but it does not show it, but rather makes a hint. In fact, it all depends on the woman, and she can be dressed in a long, beautiful robe - let us say - made of silk. It's all up to her. Eventually, the idea is to show a woman that she's THE WOMAN.
That she's beautiful, mysterious, attractive, and, of course, hot. That's how every woman wants to be seen.
The accent is on each word.
What Does It Mean For Mothers?
It might be weird for someone to think about mom boudoir photography, because she's a mom. I mean, she has to represent everything that's the opposite of what was said before, right?
Absolutely not.
Just because a woman became a mother doesn't cancel the fact that she's still a woman who wants to be attractive and desirable to her man and herself. Let's see what they say about this in the video New Moms Try Boudoir Photography
It is true that here is a pressure from society: be slim, be thin.
Like a thin body is a guarantee of beauty and health, but, thank God, in our time, the thing called body positive is becoming more and more spread.
People begin to realize that each person is individual, just like their body. Someone has a tummy, some skinny thighs and it's perfectly normal, and there's nothing wrong with it.
Speaking of young moms, it is obvious that their body changes after they bring new life to the world. Their breasts become bigger like all their bodies, which is very natural. Some moms are happy to take their new forms and are proud of them, and others may even get depressed, because with this new body they think they're no longer attractive. So it's so important at this time to remind them, to talk them about how beautiful they are, that they're still hot and attractive.
Meet The Most Attractive Moms In The World
So, photographers, who takes mom boudoir photos, are especially attentive to their clients.
For example, a great photographer Maggie.
Her model is no longer a young mother, but she's experienced one. By the way, learn about Elderly photography ideas - You are only as old as you feel
Isn't that woman beautiful?
Beautiful tanned skin, dark hair and eyes. Look at that smile! To be a mother, but to remain hot is possible.
As we see, the woman used a jewelry, the earrings, and a ring. She also wear a beautiful black lacy underwear. Shiny high-heeled shoes has the same color. And, of course, one of the best things humanity invented is the stockings. Have you ever seen any woman wearing stockings and who doesn't look endearing in them? The stockings emphasize the woman's legs and make any kind of look pretty provocative. Now let's turn our attention not to the model, but where she is. The interior of the room is in pastels, to be more precise, in shades of brown. Thee are elegant coffee table with decorative features, a soft low chair, and a curtain that creates soft side light. By the way, if you shoot with window lights, this soft light is best for nude photos, as well as for boudoir-style ones. What is good about this light is that it can be controlled by various types of curtains and blinds.
The next maternity boudoir photography was taken by Jessica Zais. This image seems so gentle, romantic, and at the same time a little bit hot, simply put, the photographer achieved the goal for like one hundred percent: the photograph completely expresses the idea of a boudoir style.
Unlike the first photo, the room is light and white is a dominant color, plus there is no extra detail in the background. And so nothing distracts us from the center of photography - a beautiful woman.
Some Useful Tips For Photographers
So we came to another point of this article, the tips for making your boudoir photograph perfect.
1. Customer Comfort
Even if a woman come to you and ask you to take photos exactly in this style, it doesn't mean that it was easy for her to make this decision. And especially it doesn't mean that the shooting process will be just that easy for her. Most women are afraid of being ridiculous or funny while taking this or that posture. Your task is to let your client relax, trust you, and feel the greatest comfort. Be careful in words, and especially with jokes. Humor isn't always appropriate, so you can accidentally offend your client.
Behave confidently, tell her what to do and how to do it. Don't forget to say "This is good", "It is beautiful", or "That's exactly what I mean" and so on. Make her be sure about what you do. If you keep quiet, she'll start to wonder whether she does the right thing. It's obvious, that almost for every mom boudoir photo session is something new and not experienced before.
2. Postures
There's a very thin line between a little bit hot and dirty photos. So you need to pay special attention to the positions that the model takes. Find useful tips on How to become a model: Tips, new trends and model poses for photo shoots
There is no need to overdo it, boudoir photos must be decent. Experiment with the model, find ideal positions for her that show the pros and cons of her body.
Moreover, we have what to experiment with. A woman can lie down, sit, be reclining on a couch or a chair, or sit on the floor relying only on the piece of furniture. Perhaps, digitally retouch portfolio will surely help you in searching for the new ideas for postures.
The most important thing to do is to show the beautiful curves of a female body. Ask a woman to lie on her back and bend, or to spin in front of the window. Try a different pose!
This photograph was taken by Maggie, and it shows perfectly how plastic and sophisticated a woman's body can be. Isn't this maternity boudoir photography great? One hundred percent it is.
3. Interior
All boudoir photo sessions take place in bedrooms. Except for those who deliberately chose to do it on outside, even though the essence of such a photograph is lost in that case as boudoir is a woman's room.
In most cases, in such photos we can see light rooms, or in white, beige, gray, or other pastels shades.
This is because the boudoir-style photo should not be aggressive, but rather calm and gentle as women. Not always, of course, but most of the time (just a joke).
Also, the room where the photo shoot is happened to be, should not be filled with things, usually there is a bed, a coffee table with a mirror on it or no, a chair and sometimes a couch. There may also be some minor details like books or cosmetics for decoration. There must also be a large window in the room for soft and natural lighting.
4. Accessories
In boudoir photos the details are important, so accessories can give a feminine take and sophistication. Like beads. You don't have to buy something expensive for photography, because the goal is not to show that the model is rich, but simply to emphasize her beauty.
The same can be said about earrings, bracelets and rings.
Photograph above by Maggie.
A woman can also use hair clips to spice her photos up.
5. Underwear
One of the most important things about this kind of photography is underwear. It's very important to find the outfit that fits a model's shape perfectly. In the event of a problem, you can always use the body retouch and be sure in good result of photoset. But it's easier and better to find the right clothes right away than to fix it after. For some women a standard set of underwear that includes bra and knickers will be perfect.
Others may want to wear a corset, which, of course, looks marvelous, especially in combination with stockings. But the classic clothes may look great if you also add to it a stocking belt and apparently a pair of stockings. Black, white, and red lacy underwear is fascinating, but the material and color it's all up tom your client.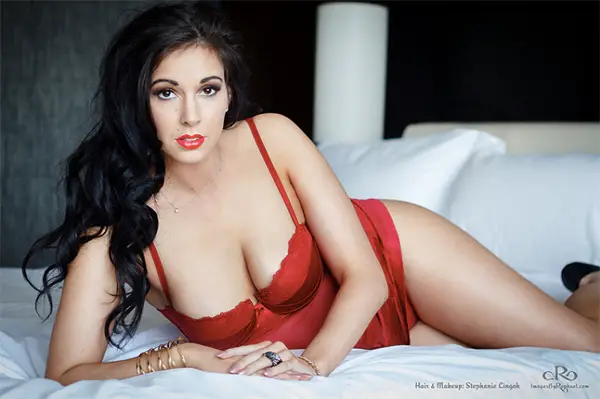 You may just advise her not to wear an acid bright color, it's going to look ridiculous and not aesthetically.
5. Shoes
The weakness of each girl is a pair of high-heeled or stiletto shoes. And the weakness of men is the women wearing these shoes. And what does embody a woman better than heels? They're perfect to complement the image of a woman.
Maternity boudoir photography below by Tammy Nguyen Le.
6. Bed Linen
As most of the pictures are going to be on the bed, it's very important what bed linen is on it. The best choice is white linen because it reflects light and the creases on it do not make shadows.
Plus, you can make beautiful photos using a plain sheet instead of underwear.
Well, it was basic pieces of advice.
Ideal Photography Of Moms In This Style
Now let's take a look at the examples of specific mom boudoir photography.
A similar picture of the previous photo was taken by already familiar for us Maggie, and with already familiar for us model in it. The naked female back is very elegant and passionate, and the main thing is it's beautiful and doesn't look dirty. It's probably all about the smooth curves of the waist and the spine.
The next photograph was taken by Genine Gullickson. She looks stunning! Long eyelashes of the model and beautiful lying hair attract attention and charm. The background is blurred, that makes photo even more soft and mysterious. It seems like the photographer wants the model not to be seen whole, that's why it becomes more interesting. The shades are perfect: a gray soft carpet and colored the same way background goes well with a woman's black underwear.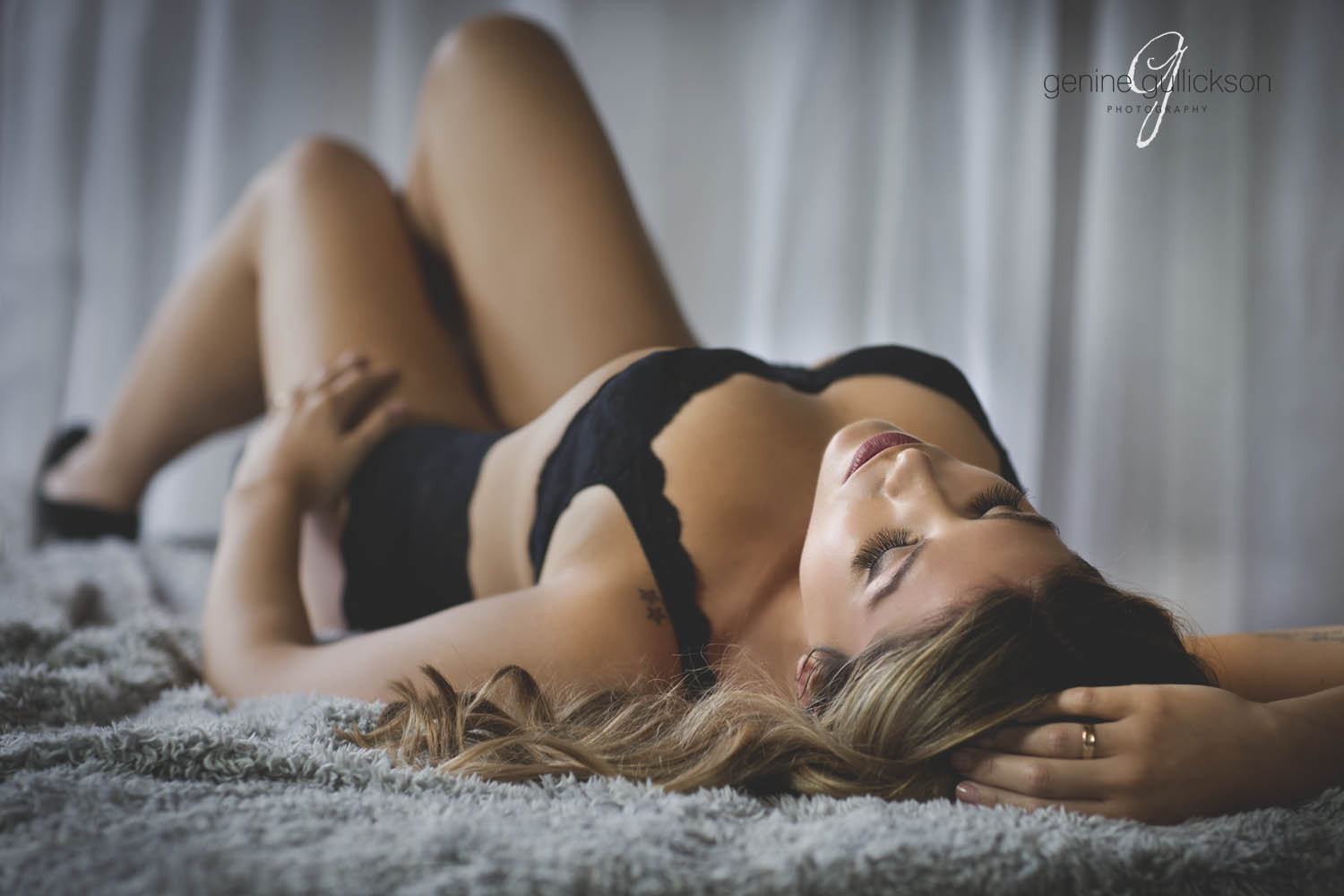 Also we see an engagement ring on her finger, so we realize that it's not just a model but a wife and a mother.
The photograph below is black and white. What usual about it is that woman doesn't wear hot underwear, but a knitted sweater, which adds the tenderness to this picture.
She hasn't stockings or heels, but it doesn't look less attractive.
The simplicity of this photograph makes it so special, although it seems like nonsense.
How Different The Photos Can Be?
The next photograph is very nice, and even a little bit innocent. If this woman had a magazine, it would be easy to decide that she was photographed when she didn't see it. Exactly this mom boudoir picture differs from others because of its natural look.
Photograph by Tammy Nguyen Le. This photo proves how different the boudoir-style photos can be: from the defiant and extravagant to the very sweet and soft.
An example of a snazzy photograph in this style is a photograph taken by Adrian Bullers.
This picture is very flashy and "screaming", and here we see a lot of red color and expensive velvet on the bed. And the woman wears black and red underwear and stockings, this whole photo is quite aggressive, which is not typical for boudoir photography, but it's possible that the woman wanted to do it exactly this way.
Maybe in real life, she keeps her passion down all the time, so she decided to show it in the photo.
As we've already said, there's something more wonderful in a naked woman's back. It's very unusual too see tattoos on women's bodies in mom boudoir photography. But they can also be called accessories just like necklace or rings.
This photograph was taken by Christina Wall.
Close-Up Photos
Now let's move on to the photos that are close-up. The expression of a model's face is also important, so make sure that there is no anxiety, embarrassment, and especially fear on her face.
The following photograph was also taken by Christina Wall. It depicts a very cute woman and the mother of her children, and she looks perfect. By the expression of her face you can say she enjoys the shooting process and she likes everything.
I particularly wish to mention long honey wheat blond hair of a woman, her big gray eyes and little moles on her arm. Someone might not like it, but they look very good. For those who is shy of such things and want to remove them away, it is possible to use skin retouching online
But do not rush to advise your model to get rid of them, you would better to convince her that she is beautiful just the way she is, and these moles too.
Beautiful Hands Men Want To Kiss
The face of the next mother is very expressive. She's serious, strong, confident and knows her own worth. That's what men find most attractive in women, be sure.
By the way, another detail that wasn't mentioned earlier was the manicure. It is also an important part of the image, especially if it is close-up photo. And what kind of woman doesn't like manicure? Beautiful, groomed hands this is one of the main task for all members of the female gender. Men can only kiss those hands.
When the photos are ready, and it's time to start processing them, but you're not sure whether to do it and how much it will cost, just watch photo retouch rates and decide for yourself.
I hope this article open up something new for you and help you to understand what might have been a puzzle for you before.
Like and share the post
You are welcome to rate this post
The post's average rating:
---