10 extraordinary Nude photographs
Naked photography is the most discussed and disputable genre of digital photo art. On the one hand, people consider boudoir photos to be something violated, a violation of morals. On the other hand, naked photos go back to the ancient times of paganism where beautiful bodies were usually allusions to goddesses and nymphs. Artistic boudoir art can be found in any culture. A women's body and figure were revered by sculptors and artists throughout history on down to our days.
Many modern photographers and digital artists still push the crowd aside with their art and sometimes even shock, but it is indeed a fine line between the two worlds. In this article we're going to discuss 10 popular nude photo retouchers and photographers who really know the real price and value of nude and boudoir photography and retouch.
1. Philbert Photography
Model/Actress is Belleza Courtt
Body painter is Michelle Heffner
The photographer created a colorful world of magic and fantasy and transformed the model into its fairytale. It took more than 7 hours for Philbert to complete this nude photo session and retouching, as the girl was painted from head to toe. Click here to see the video about this BTS process.
Bodypainting is one of the favorite attributes of boudoir photography. Photographers picture to themselves their models' bodies as the canvas for the painting, of a non-permanent decorative art piece. Also, digital artists use other special techniques including the use of glowing paints, which glow different colors under UV lights. Glitter, glowing powders, metallic and sticks are also commonly used in this kind of erotic photo art.
2. Joel Bloch
This shot is made by famous French photographer Joel Bloch and creates a part of his "This Obscure Object of Desire"
It is not easy for photographers who create the occasional artistic nude or erotic art to survive as a portrait photographer. This genre of the photo art isn't very widespread, because you won't post the nude photos on Facebook or Twitter. Security is above all. Using Photoshop tools and Lightroom presets should be neutral. So, it's extremely difficult to build a perfect shot giving a natural look to the model.
3. 3cm
Yung Cheng Lin, known as 3cm, is a Taiwanese photographer who tries to show this concept behind his portraits of women, femininity, and women's bodies.
3cm's art is unsettling and visceral, all his photographs provoke a reaction in any audience, often gut-wrenching or cringe worthy. He understands women better that the whole men society. He says: "When people don't follow the latest fashion trends, they are considered as out-of-fashion or black sheet. This phenomenon is obvious to see among women. For instance, women need to shave hair or lose weight to keep in good shape."
4. Gracie Hagen "Illusions of the Body"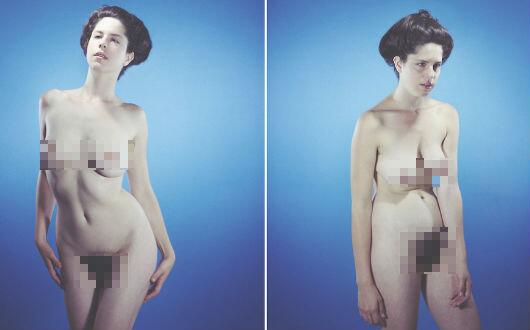 The photos from "Illusions of the Body" series were made to tackle the norms of what we think our bodies are supposed to look like. People can look extremely attractive under the right circumstances & two seconds later be transformed into something completely different.
Within the series the photographer tried to get a range of body types, ethnicities and genders to show how everyone is a different shape and size; there is no "normal". Each photo was taken with the same lighting and the same angle.
5. Philbert Photography "Black & White. Male and Female"
In this picture Philbert suggests to his viewers a vision of the two people in perfect harmony, two sides of the same unit, where each individual draws strength and power from the other to create a joyous whole.
The photos in this style are atmospheric and evocative, which make for striking art in any room. Black and white photography works very well with portraits. In part, this might be because many iconic portraits from the last hundred years are monochrome and we are familiar with the style.
6. Lucien Clergue "Nu Zebres"
The French photographer goes to town. He takes the body in the city of New York and discovers the "zebra nudes". Over a number of years Lucien Clergue has captured numerous images as part of his "Nu Zebres". These photographs paint striking black and white lines across a naked model's body, aided by creative lighting techniques.
7. Georgy Chernyadyev
This shot won the 500px's attention and got the high place in the list of best Nude photos according thousands of votes.
The beautiful, young girl against grange atmosphere looks very attractively. Naturalness is at the high level here. Soft colors and shadows of this photo say that this is an excellent example of a professional naked picture.
8. Spencer Tunick
In the art world, the name Spencer Tunick is outstanding, and conjures up one specific image in the mind: large-scale shots of naked people, often involving hundreds of participants. Whether it's on a rocky beach, outside the Sydney Opera House, or in the desert, Tunick always finds new and visually arresting ways to photograph the same scenario in different guises.
These mass photos of naked people bring thousands of disputes, everybody tries to find a certain sense in these shots, to agree on one singular opinion, but it is impossible. Someone considers the photos of this photographer to be a challenge, a revolution, or a simple nonsense. It's only your choice to decide.
9. Olivier Valsecchi "Time of War"
In his "Time of War" a great photographer Olivier Valsecchi conducts and contorts his models into extraordinary shapes and poses. Sent up with clouds of dust, the nude dancers that he shoots present us with a vision of the pinnacle of the human body. Just like sculptures in Ancient Greece and Rome, Valsecchi is showcasing the potential beauty and perfection of the athletic human form, though in a more exaggerated style here.
10. Vitaliy Sokol "Magic of Water"
The picture is made by Russian photographer Vitaliy Sokol from the "Underwater-Dance" series.
The use of people's bodies in photography is one of the most significant concepts in photo art. Wedding photography, portrait photography and many types of conceptual photography make use of people or the human body to create an artistic concept. Nudity can also be quite artistic, as the body has natural lines and curves that can be enhanced using creative lighting to achieve stunning effects.
If you want to get into this list of Top professional nude photographers and become recognizable worldwide, take your camera and make your own extraordinary glamour images by means of nude photo editing.
Like and share the post
You are welcome to rate this post
The post's average rating:
---