Photoshopped images before and after: you will not believe your eyes
There is a popular Hollywood joke: "What is the secret of your beauty? Day cream Adobe Photoshop." It is this image editor that knows all the secrets of celebrities' beauty and eternal youth. Unfortunately, magazines come too far while being in the peruse of an ideal image. It often happens that on some of the perfect photos you can count less fingers that it is supposed to be, got stuck by the ideal proportions or discrepancies in the proportions of the bodies of celebrities, o erven see strange ghostly shadow behind.
Photoshopped images of models & amateurs
These is a tendency to think that it is women that women can feel shame of their body. If you do think so either, it means that you are wrong. Men also quite often express their dissatisfaction concerning their bodies. In general, women have complexes as they think they are just too fat. However, when it comes to the brave side, the number of such complexes increases. Men would grumble saying that, of course, they are fat. In addition to it, men would not forget to mention that "I have beer belly", "I am too slim", "I am not athletic" or "I am too short" etc. The interpretations can be of various types.
On the purpose of demolishing the inferiority complex and make just real fun out of it, the website Buzzfeed worked out a real project.
The holders of the project decided to stay positive about photoshopped images before and after and did it in the way world super stars do. Photoshopped images of models look really as if taken from the pages of world household magazines. Models seem to be fantastic: ideal bodies, pumped up muscles… Oh, everybody would like to have at least a single image where he / she would look hot. Since photoshopped pictures funny look like if not a professional does the editing, everybody struggles with diets and work outs to fit their dream.
In order to hit the target and show photoshopped celebrities funny appear to be when revealing all the secrets of photo session, Buzfeed asked ordinary guys to take part in their project. There were nothing special about them and you would definitely even do not notice them in the street passing by. Guys were professionally painted, high quality lighting was used during the upper-class photo session. After all this stuff, their images were professionally edited in a good way, with a large doze of enhancing.
Oh, after a dozen of mouse clicking, you can see Cristiano Ronaldo wearing Armani under ware.
Others were featuring in photoshopped pictures funny made while mocking Channing Tatum and Justin Bieber.
Watching photoshopped images before and after, you have shivers running up and down. It is not the nature that creates such marvelous bodies, it is Photoshop that is a real wizard! We have so much accustomed to wrinkle our nose while watching fashionable magazines since we consciously realize that nobody is perfect and each photo there is professionally edited. Photoshopped images of models very seldom correspond to the real bodies. So, we should not believe in everything that is published in magazines. Photoshop rules the world!
There is another project created by British newspaper "The Sun" concerning the same issue. They made photoshopped images funny of men wearing world known brands of under ware. However, instead of featuring Gary Cavell or Cristiano Ronaldo ordinary men took active part in the photo session. These men had no pumped up muscles, the hair over the bodies… you would not consider them neither hot nor provocative.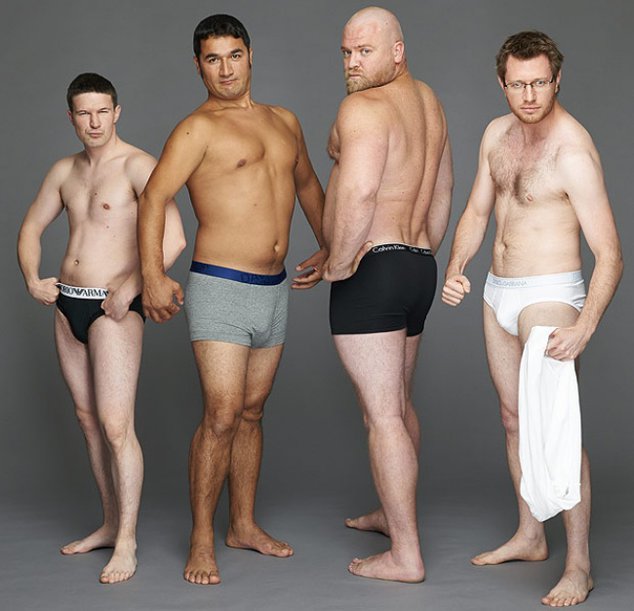 These projects show real behind the scenes of photoshopped images of models. People have complexes when watching popular magazines and such ideas are designed to demolish all the myths. Household labels are as if placing stickers to us saying who is awesome and who is not and at this point we forget that it is the computer graphics that makes everybody hot. The appearance of an ordinary man as well as woman does not fit the expectations and in a way funny when thinking about it.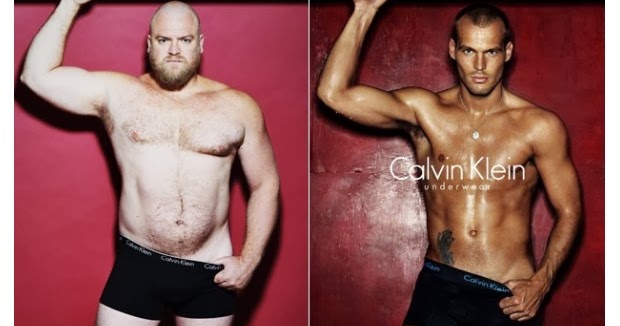 You can see in what way a real man would look like in the same poses as a model of a slick magazine. There is only the question to the beautiful part whether we would like to see such advertisement? Do we have any right to grumble because the boyfriend does not have anything to do with the muscleman from the cover of your favorite magazine? It is evident that the answer to this question is not easy to find, since it is very individual. Only you can decide whom to take as a model for yourself. One of the variants is male professional nude photography. Even though after so many controversial projects recently hold it is difficult to believe in the reality of the images.
At this point the question arises: What is awesome body is not the heart of success? Hmm, an interesting and disputable issue. We will discuss it in the following articles. Today we are pretty sure that the only thing which is evident and do not require further explanation – learn using Photoshop! It will boost if not your career but images for sure!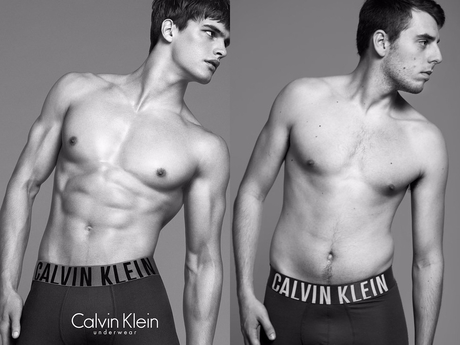 However, even the masters of Photoshop can produce an image which may see as an ideal one … but it is so only from the first sight. Taking a closer look, you see that there is something definitely wrong with the anatomy of a girl on the image below.
As far as you can see, it was Victoria's Secret brand, which was hotly discussed in Facebook after the company displayed the new poster advertising a fresh line of the under ware. Facebook users noticed a poor quality of the retouched image, where everybody can notice the discrepancies in the body proportions of the model and a vivid desire of the artist to lay an accent on the unnatural slimness of the model.
It is not the first time when this company undergoes heavy critics due to the photos of the models and the methods of advertising their clothing line. Earlier the company was on the retailer's list with the most awful usage of Photoshop on their posters.
Photoshopped celebrities funny fails
Well, yes! It is not a secret that every image before appearing in a glamour magazine should undergo editing. This issue has become a condition. Nobody would display a pic no matter how professional it is if there is no even a bit of adjusting. However, if you only with some colors of the back ground it is okay. Unlike the story with the truth distorting. Celebrities often practice such Photoshop usage. For instance Kim Kardashian.
It was 2009. "Complex" magazine did an immense unforgiven mistake. By an accident and the lack of proper attention, the editors displayed on their main website the unretouched version of Kim's image. That is the one on the right. Sure thing they noticed the mistake fast, but it was already too late. The readers and followers of the journal have already made hundreds of screenshots. And then came the scandal like a thunderstorm out of the blue. Everybody was outraged.
Nevertheless, Kim Kardashian remained quite calm. The only thing that she replied like the following. Kim just said "So what?" she explained the image by the fact that she is proud of her body, her curves. A bit of cellulite was not disturbing her. Kim claims that every woman with curves has it. There is nothing to feel shame about and that everybody uses Photoshop today. It is common practice and the outrage is unnecessary.
It is one thing when the designers and editors eliminate some cellulite from the body. However, quite shocking is when the celebrity is younger and much more slimmer that in the real life. Tens of years vanish when a skillful retoucher is in front of the screen.
Just have a look at sisters Kardashian. Well, these girls were always famous for their ample curves. It is a kind of their brand. However, while presenting a new collection of the swimming suits as a part of Kardashian Collection, family brand, everyone, Kim especially, lost a couple of kilos and a half the curves saying nothing that she became much more younger. Hourglass figure and slender legs are what the customers saw in March 2012. When comparing these image with the one below, the difference is shocking.
After these images have flown all over the world, some of the society columns were joking ironically that Kim was on the Photoshop diet all the time. Another case which served as a good basis for a hundred new jokes was the cover of US Weekly. Here the designers were just brilliant. If not knowing that it was Kim you would never guess. Perfect shapes of the body, bracing, she is so young as never before. Yes, Photoshop creates miracles!
Browsing the Internet, Instagram especially, you can see that not only those intending to come to the cover of a slick magazine get down to such tricks with photoshopped celebrities funny photos. Some of them being not very much skilled in photo editing display images to their accounts and get into troubles with careful followers.
Who is that? Is it Beyoncé? We believe that these are the questions that probably arise in your mind when you the images above. Nobody would even have given a thought that it would be she to photoshop the photos. This woman is so much opened and the air she created is so much feministic that is seems almost impossible. Unfortunately, even Beyoncé was a couple times caught red handed. She posted some images to her Instagram account, which are frankly speaking terrifying.
However, it is still difficult to believe that she has also undergone the common trend of thigh gap falling into skin retouching online. Well, the singe did her best, but nothing can hide from the conspicuous fans. The singer has always been frank with her followers and displayed images in most cases which are true to life without any touch of retouch. We hope that the image on the left is just a mere fake and somebody was just playing tricks with Beyoncé's reputation since there was not a single issue that she had admitted openly the usage of Photoshop.
Watch carefully! Do you see any difference between the images? We do actually, between both the images and the real claims of Keira Knightly. The actress always claimed that she is proud of the size of her breast and never wanted to have it photoshopped. She even made a nude photo session with such a condition. But we are immensely disappointed with the issue we came across when paid special attention to the poster of the "King Arthur" film. Here we observe everything on the contrary to the Keira's words. Notice it is 2004. Coming closer to our days we see that Knightly has in most cases C. and haw is that possible if the actress never wanted to undergo retouching? You know everything becomes important when it comes to marketing. Social studies claim that women with zero size of the breast are not attractive. In most cases they never attract attention in the positive way to them. That is the strongest reason of the change that we can Observe in Keira Knightley's photos.
Today we have already spoken about Justin Bieber promoting Kelvin Kline under ware. We decided to come back to this guy and have a professional look at the retouched image of him. Sure thing it is nice and professionally done, but… there is always some "buts" that arise. Just giving a look to these images, we can easily point the original one. There we can observe that the singer is not that pumped up and there is not so many muscles that were added to him. The editors say that it was Justin, who asked to do such a make over.
An interesting fact – he, Justin, denies everything and claims that there is nothing edited and he is shown as he truly is. However, the audience do not believes him any more. After he appeared on the cover of Men's Health in 2015, March and was telling the same story, it was even funny. It is even interesting to observe how much guys can be concerned with their appearance and the general air, in what way the other people perceive them. Nevertheless, it is the desire of the celebrity to choose the way of presenting themselves in the public. The only thing that is up to us is to give the feedback. It may be various: positive, negative or even none, if you do not pay attention to it at all.
An issue that you are likely to agree with us in is like the following. You need love yourself as you are! That you will not bother yourself with rumours concerning photoshopped images that look real. Aiming at the body of you dream you are likely to become interested in top 10 best fitness bodies. People going into different kinds of sport mainly do not need heavy body enhancing since they are constantly and persistently working under their curves.
You are very lucky if you decided to collaborate with our company. Being famous for not high photo retouching rates we come take the first places in all the lists of the best body retouch companies. Being quite frank, we do not boast of the things that do not meet the reality. We are always frank and open with our clients. We value each of you as a unique treasure, a diamond in the rough. Our specialists will make your photos and make over ideas shine anew. Our skilful team is always interested in the clients vision of themselves in the final version of the image. We try not to impose our ideas, just on the contrary. The secret of the success is simple – effective communication and listening. We can and we will share with you our digital retouching portfolio since it is one of the primary sources of information about our work and its results. We are always ready and glad to meet new clients among our permanent customers. You can contact us any time since are always at your disposal!
Like and share the post
You are welcome to rate this post
The post's average rating:
---