Smoke bomb for photography – Tips for amateur photographers
Smoke bomb for photography is a photoshoot outside or in the studio with using multicolored smoke bombs which produce smoke of different bright colors. It became a trend in different genres of photoshoots. Along with the play of light and shadow, the photographer's skills, they create something amazing. If you are a photographer, then bombs with colored smoke are an opportunity to reach a new level in your creativity, the ability to present something fresh, surprising, to impress customers and competitors with your interesting digital retouching portfolio.
The smoke bombs for photoshoots should be used in many genres of photography: portrait, wedding, fashion, children, couple, family, street, landscape, etc. Both amateur, professional photographers and models want to surprise everyone with amazing outcomes. Let's view the written smoke bomb photography tutorial; we will find out the features of these photo sessions with smoke bombs. It will also be important to consider security measures and successful poses for a photoshoot.
Smoke bomb photography tips for a good start
This time the instrument for receiving beautiful photos are these bright bombs. Colorful smoke does not have a toxic smell; it looks very impressive, beautiful, and easy to use. Smoke grenades can be kept in hand or activate somewhere off-screen, smoke can help make a photo session with a certain mood, more mysterious and more romantic.
In spring or autumn, when the background is not very nice, but you want to make beautiful shots - colored smoke will be useful. It will help save the situation and in case of cloudy weather, you will get extremely bright and fascinating pictures.
Before buying and using colored smoke, it is worth keeping several rules in order not to overshadow this event.
Security is in the first place
Equipment
The most important thing is equipment. Regardless of the weather and various human factors, it is better to take a camera, a reflector and a diode light for every photographer. By the way, it is better to take an assistant with you, who will help in installing smoke bombs or in supporting and setting up the equipment. The assistant will give you the opportunity not to miss the moment and take more pictures.
Choose location in advance
For security and obtaining the best images, all smoke bomb photography ideas are embodied outdoors, so it is worth choosing the location in advance, make the list of the poses, to work out the idea of photoshoot. While the smoke bomb is burning, you can twist it as you like and it will not go out. You may need to increase the shutter speed by a little bit to get a clear photo, as it will not be repeated afterwards.
Variety & Quantity
Take a few different colored smoke grenades, they are quickly run out, so you need to move quickly to get the images. It is worth buying grenades, the burning time of which is from one to four minutes, this time will be enough to make many photographs.
Before the photoshoot, it is better to test several smoke bombs in advance together with the team in order to determine the density of smoke and its other properties.
Date of expiry
Be sure to buy colored smoke only in large stores with good reviews from customers. This should be certified smoke grenades with a good shelf life. Calculate how many smoke grenades you will need, and what burning time should be for each of them. Next, we'll talk about where to buy smoke bombs for photography and what you need to take into account.
Testing
In order to check the equipment, bring the settings to the required balance, and see how the smoke bomb will work, you need to make several test images. Wind can interfere your work or there is not enough light. Uasually for such photo sessions you need a manual focus, so you should prepare carefully, because after 10-20 seconds the smoke dissipates and rises.
Black Light
The most successful photos with smoke grenades are large portraits, especially the pictures made in the back light (you have to install a diode light behind the model, and a reflector in front of her/him).
Photo retouching
The final point of such photoshoots will be skin retouching online and a general improvement of the photo quality. If the smoke bomb does not "smoke" the background or there are other drawbacks, you should make additional editing. Colorful smoke is a great way to add some unconventional emotions to your photos and satisfy your model with outcomes!
NOTE! A couple of extra smoke bomb photography tips:
• Buy several smoke bombs to make many photographs.
• Booking in online stores is cheaper than in regular shops.
• Ensure that long-lasting smoke bombs are purchased.
• Make sure that there is an assistant nearby who will light a smoke bomb. It can be your clients or personal assistant.
• Work out the poses with your client before you start taking pictures with colored smoke.
• Make sure that your camera settings are good before the smoke can start to puff smoke. Make the shutter speed faster; this will help to photograph in motion.
Now, in your personal list of photo session ideas opposite the "smoke" box you can put a tick.
Top 20 fashion smoke bomb photography ideas
Smoke bombs are the easiest and inexpensive way to create a luxurious fashion photographs. Thanks to their use, you can give nature a special look and charm, and the photo session will become mysterious and unique. They try to hide flaws, for example, in the early spring or winter, when the landscape is still not particularly pleasing to the eye with its flowers.
Today, colored smoke can be used for the photoshoot in motion in a car or on a motorcycle, while skiing. It looks particularly attractive under the light of the headlights, when drifting to the smoke from the tires you can add smoke from the grenades and make an unusual picture.
Experimenting with them, you can achieve an unusual result. You can make the sky under your feet, and over your head paint it in red or green, changing it in places. There are many options for using smoke bombs, it depends on the imagination of the artist and models.
If your model is dressed up in a fairy-tale hero's costume, take pictures outside, for example, in the forest. Such images will look amazing in your portfolio.
Colorful smoke bombs are used by athletes and models, newlyweds and musicians. Thanks to its use, the photos become more impressive and vivid. They always give a festive atmosphere. Smoke in the photo can give smiles to children and adults. To obtain an interesting and unusual form of smoke, for example, the heart experienced photographers use special methods. Often such pictures do not even need to be post processed in Photoshop. Tips on how to edit photos with smoke or learn about interesting methods of using smoke can be found on specialized websites or forums. Find more in this article "Looking for the best photo editing forum for you?".
Ideas for smoke bomb for photography from professional photographers
Let's start with the simplest ideas, which do not require any additional props and other things:
1. Perhaps one of the most simple and at the same time beautiful photographs is "Arrival", captured by David Talley.
2. Another sample with colored smoke, the photo "Untitled" is performed by Lara Wernet.
3. Damp gaze, smoke balloon and girl embodied in "Larissa", photographer Curtis Spahl.
4. There's nothing easier to create a light haze and highlight the face of the model in this "Untitled" portrait, photographed by Craig Gibson.
5. Every girl likes to be photographed in this way, but our smoke instrument helped to make the photo more interesting – "The world is changing" made by Marta Pietruszka.
Stylish and fashion photos where smoke bombs are used
1. Ann Street Studio made a series of images, but Rachel Roys became more effect with smoke grenade.
2. This image with Stella Maxwell can be a picture from the fashion catalog, the author Ben Morris.
3. "Finally at peace" is very romantic and tender photograph, which was taken by Andrea Peipe.
4. Photographer Darren McDonald made a whole series of photos and one got into "Black Magazine Issue 16". Yes, a smoke grenade can become a tool for photographing fashion magazines illustrations.
5. Kirsty Mitchell chose an interesting location which was highlighted by a smoke bomb and dress in a tone – "The Lavender Princess".
Mystery photography
Smoke bombs add mystery, mysticism and can revive any gloomy location, let's see how it happened with the following photographers.
1. Brenda Waworga and her series of beautiful girls, "River v.2".
2. See how Omálix Martinez was able to toy around with such a composition and bring romance even to the photo "One Last Waltz [Explored]" with a skeleton.
3. Gothic lovers will appreciate this idea "Saint Agnes III" which was performed by Anna Shen.
4. "The Mind is a Battlefield" taken by Rob Woodcox and other similar ideas are in high demand.
5. The simplicity of the composition is mesmerizing "365/365 Release" made by Cynthia.
Smoke bombs and guys
Guys may not as much like to be photographed as girls, but to use different props and create interesting cadres does not mind at all.
1. This idea of "Eleven / fifty-two" is suitable for romantic guys. By the way, do not you think that Chris Gray take the photo on an old camera?
2. A very interesting image is made by Julie Smith. Her "Aviphile" conjures up some surrealistic thoughts.
3. It does not need a body retouch or other special effects; they are already created with the help of smoke. "The passing" taken by Christian Benetel.
4. Stylish guys will appreciate "Foggy" which was performed by Lotta and the Waves.
5. The ideas like Marina Gondra in "Se me escapan las ideas" are very popular. Some guys like to hide their true face.
Today, the smoke for a photo session can be applied during photoshoot for almost any occasion. With its help you can create a special festive mood. It is inexpensive, but its use is justified not by the price, but by the value of photos.
Where to buy smoke bombs for photography
Color smoke is a pyrotechnic product intended for signal delivery during the daytime. Colorful smoke grenades are used all year round on wedding and themed photoshoots, hide a dark background, dilute photo session with paints, add mysteries or mystics.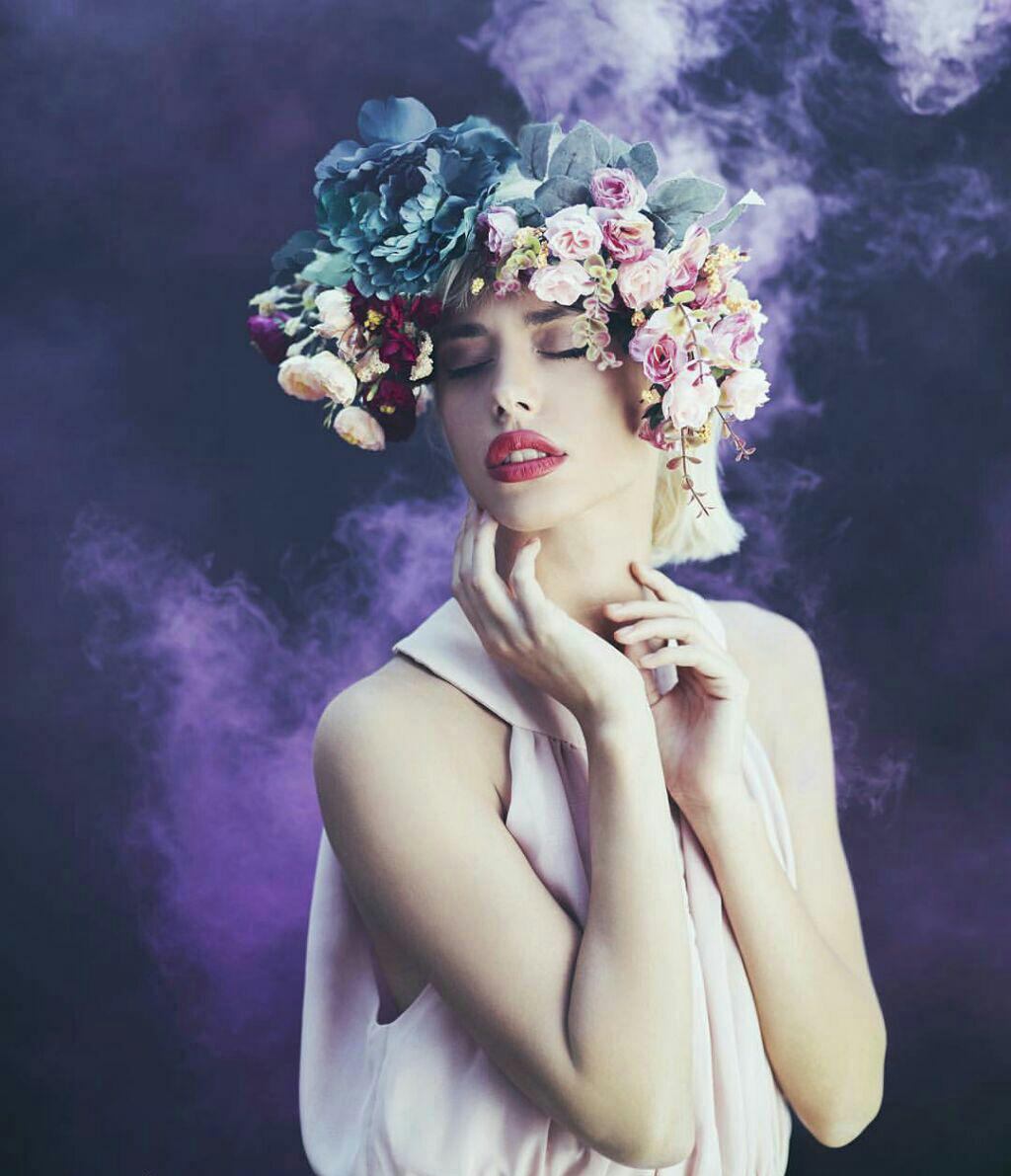 You can buy colored smoke in specialized pyrotechnic shops or order online. For example, the site Amazon offers a wide variety of pyrotechnic tools as props. Prices can range from $4 and up to $50 and above. Everything depends on the amount of combustion and the density of the smoke. For example, the simplest variant costs $4.39 and looks like this:
The option, which costs $27.20, includes a set of colored bombs.
But on the site eBay heaped smoke bombs will cost $39.99, as their burning time is increased to 5 minutes.

There you can find thousands of options, read the reviews and watch the video, how the grenades are burning, focus on the prices and the time of their burning.
However, when choosing such products, special attention should be paid to the time of smoke formation. This factor affects the cost of colored smoke bomb for photography. The cheaper the bomb is, the shorter the smoking period. In addition, you cannot check the color of the content before launching the grenade to make sure that you have chosen the right shade.
An experienced photographer should study the detailed smoke bomb photography tutorial, and then explain all the nuances of using it, how to apply it more safely for the model. The commonly used color smoke for a photoshoot is released from a balloon in twenty or eighty seconds, but it slowly dissipates. Shells of torches are made from a reliable cardboard, which does not heat up and does not collapse when puffing smoke. They are very easy and convenient to operate. The torch can be started by pulling the cord, which is located at the top of the product. Sometimes it needs to be ignited, depending on the price and model.
Be careful in the use of smoke bombs, if you do not succeed in implementing this idea, you can always rely on photo manipulations, our company offers. Just contact us, we will discuss your ideas, implement them on the reliable photo retouching rates and give you the desired results in a short time. They say that there is no smoke without fire. Light up in your photoshoot and let bright, creative and beautiful photos will be a perfect illustration of your creativity!
Like and share the post
You are welcome to rate this post
The post's average rating:
---