Semi-Nude Victoria's Secret Photos - How Much was Retouched
Due to the excessively impetuous development of digital technologies and photo retouching techniques the public attitude to body image has been greatly altered and modified by various fashion magazines' images which don't shy away from fixing even the tiniest imperfections of their supermodels. Victoria's Secret advertising campaigns are ideal specimen of that.
Their models are pure bombshells and perfectly aware of the most auspicious posses for a glamour nude photo session. Nevertheless, their images seems to be "fixed" anyway so that the products advertised look even more alluring and mesmerizing, as well as the models themselves. One may see it even with a naked eye that there is definitely some photo editing magic going on. But it surely does its thing, doesn't it? So, how much exactly is retouched in pursuit of impeccable photo images? To what extremes do Victoria's Secret professional retouchers go for the sake of flawless post-photography products?
The general image of Victoria's Secret photos
No one would ever presume to deny the drop-dead-beauty of all the semi-nude commercials and lingerie photo shoots that Victoria's Secret practically throws in our faces. Not only that they have one of the most gorgeous and tempting photo models ever seen on this planet with their mouth-dropping perfect bodies, but they also have a clue of how to apply a smart and the best photo retouching service to their campaign images.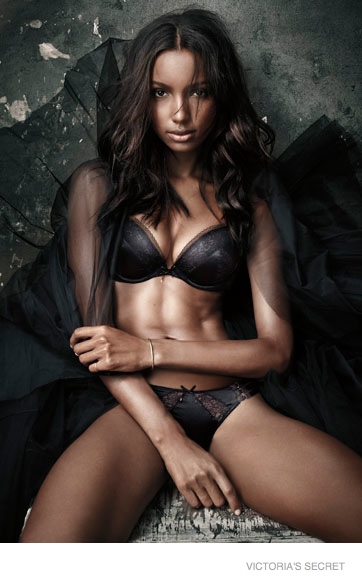 Victoria's Secret angels can boast of ideal bodies, as well as are perfectly capable of showing off their "best sides", making the male part of the world-wide population stare at their advertising photos for quite a time, while women simply enviously gnash their teeth. Viewing their photos you can easily create The Top List of Poses for Glamour Boudoir Photo Session. Photo retouching professionals also don't waste their time but make Victoria's Secret images stand out from the herd.
No doubt photography professional do their utmost as well when making use of diverse settings and backdrops. Palpably, they know how to snap a perfectly sensual photo. No wonder since nowadays there is a wide-ranging variety of Diverse photography gear for boudoir photographers at their disposal. No doubt that the products advertised, that is lingerie itself, contribute greatly to the general image we see then. As a result, we observe all these splendid and extremely eye-catching semi-nude photo images which make females crave to buy their lingerie as soon as possible. Just have a look at these passionate pics and don't you dare say they are not merely dazzling and mind-blowing, perfectly showing all the beauty of a women's body.
Victoria's Secret photos before and after retouching
It is obvious that no heavy and exaggerated photoshopping is involved in any of the Victoria's Secret images. No missing or extra limbs, or crazy body distortions, thanks God. The primary focus of their subtle retouching is on the minor bodily imperfections, brightness, colour characteristics and light conditions which sometimes make raw photos look a little bit dull and unattractive. It's now that photo industry abounds in different photo retouching techniques. But it wasn't always like this.
Photoshop wasn't even a norm till the late 90s and the beginning of the 2000s. What is seen a bit unattractive now was absolutely acceptable back then and no one even though of paying attention to that. Today everything is changed: photo retouching techniques and standards range from one fashion magazine to another. Even teeny-tiny skin fold and micro wrinkles which seem to be invisible at first sight are retouched nowadays. Victoria's Secret has once exposed some of the raw photos with their supermodel Doutzen Kroes which illustrate alterations of that kind.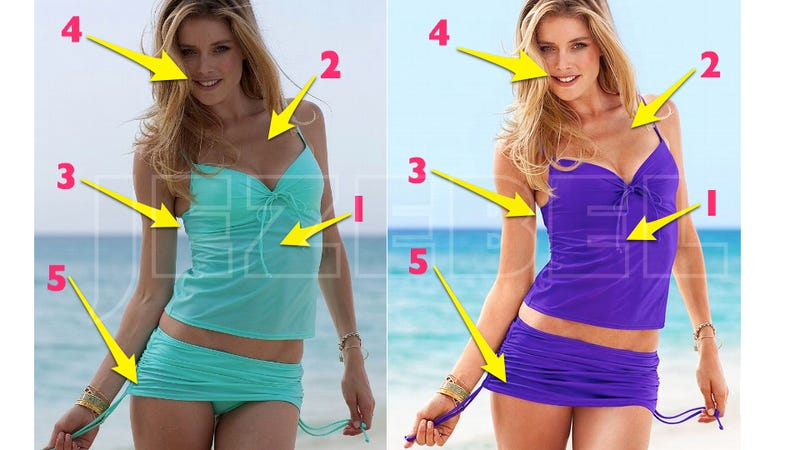 Here, for instance, we can spot how drastically brightness is changed, together with the colour of the swimsuit and the way it sits on Doutzen. Besides, her skin is obviously retouched, with some skin below her armpit and some wrinkles being eliminated from the photo.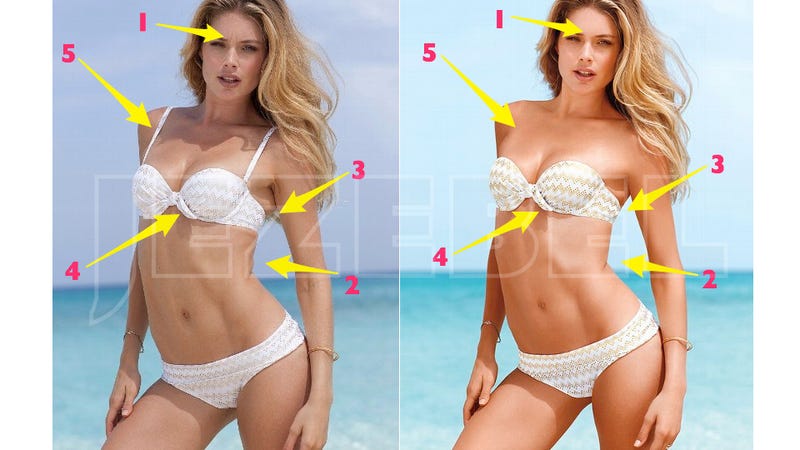 In this picture we can see how expression lines have been erased together with the little skin fold on the waist due to the model's position, as well as her armpit skin. Again, the brightness and the colours are slightly changed, and her lower part of the body seems to be a bit reshaped for making it look even slimmer. And finally, the most conspicuous thing - the bra straps have been removed from the photo.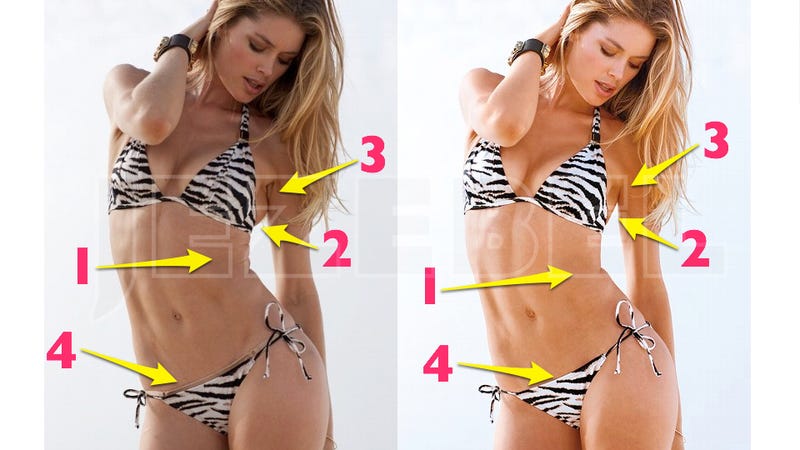 Here is another example of extensive Photoshop body changes: skin smoothening, folds and wrinkles removal, it's all there. Every possible small manipulation seems to have been applied just in order to make the photo image look downright incapable. One can even see how the nude underwear underneath the bikini of the swimsuit has been erased.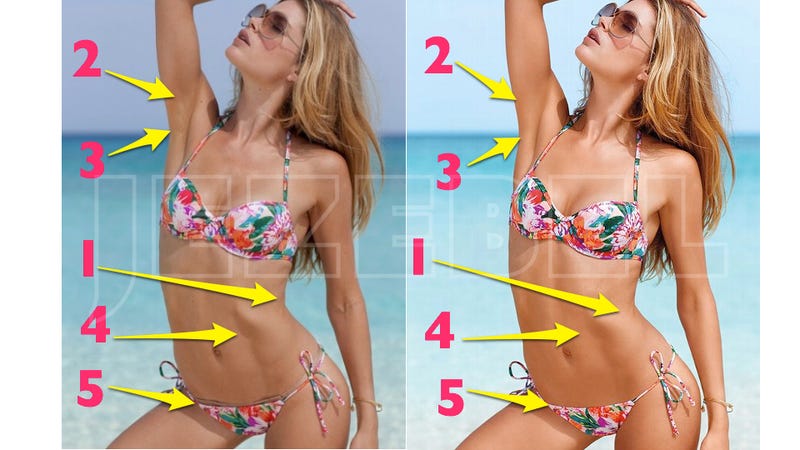 In this picture more skin smoothening, skin folds and veins elimination is perfectly seen (especially in Kroes' armpit area, as you may have already noticed). Nude underwear has also been retouched in this photo image. What is more, some shadows in her bally area have been fixed for the sake of a more relaxed look, just as if she hadn't gone to great pains in order to make that pose.
Here are a couple of more before and after retouching photo examples.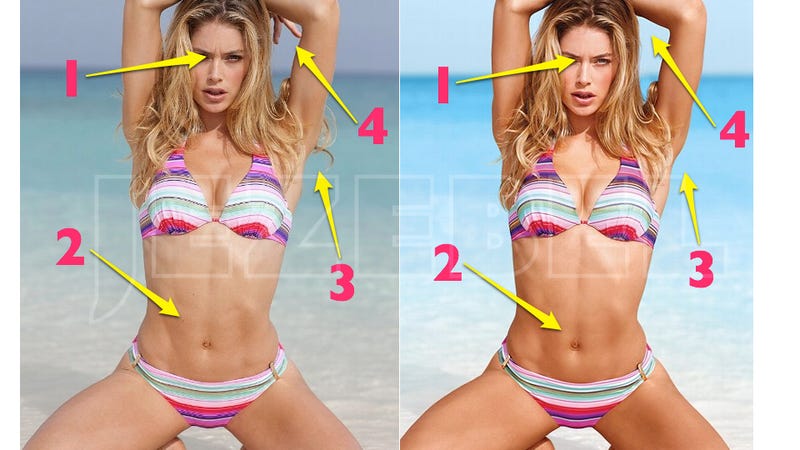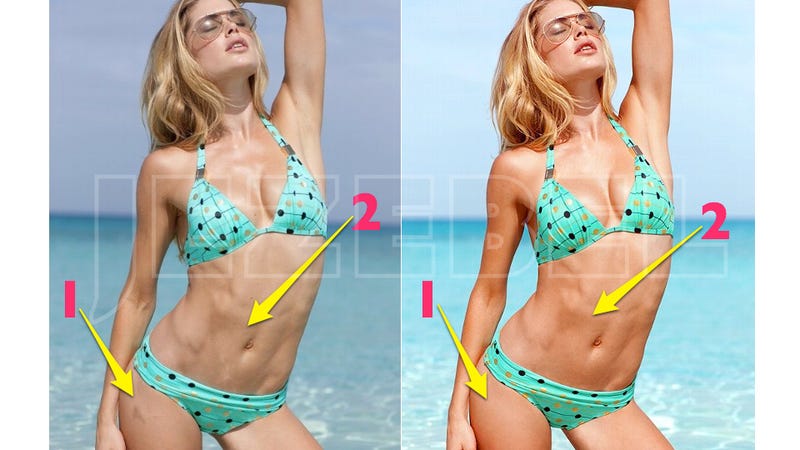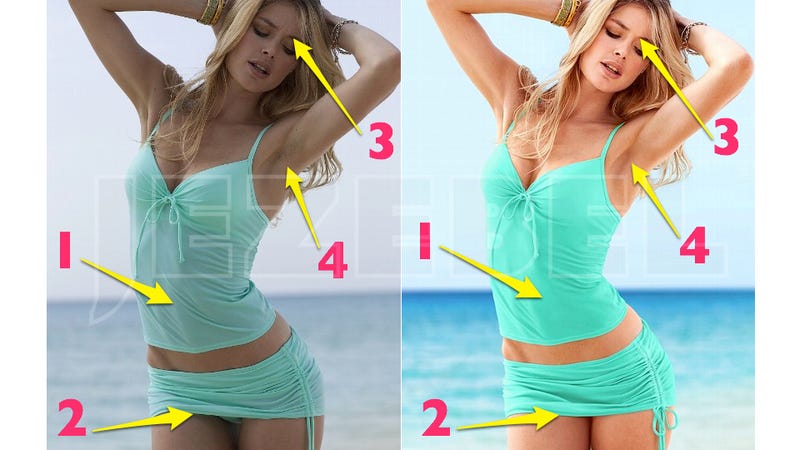 Retouching techniques Victoria's secrets makes use of most of all
As you may have already spotted from the photos above, the majority of all the alterations are applied to models themselves, besides those directed to colour, light and overall brightness. Without any doubt, they look perfectly gorgeous in real life. But when it comes to professional advertising photos, all means and strategies are handy in this cut throat competitive society. So it's better that everything looks just flawless.
First and foremost, it's skin. It should be smoothed to begin with, sometimes even tanned. Armpit and thigh are special targets. For instance, it doesn't matter how clean and close to the skin you shave, there is no way you can avoid a shadow of gray in the armpits. It the natural way the light is reflected on us in the pictures. Face skin and the general countenance should look naturally beautiful and relaxed, as well as perfectly smooth.
Besides, it may be hard to believe, but there is almost no model with her unretouched natural hair. There are always some alterations: photoshopped hair extensions, extra volume, more smoothness and shines, more curls or texture, whatever. It seems to be a golden rule for Victoria's Secret models notwithstanding how gorgeous their hair already looks, it should be on point and harmonize with the overall perfectness of a photo image.
Moreover, a lot of editors have already publicly admitted that it's not rarely that models are being a little reshaped in the photos. It seems as if they all have perfectly shaped bodies, but nay, their curves are retouched, as a rule. Whether thighs are being made rounder and bums juicier, or breasts are being made bigger and more resilient with a more conspicuous and attractive cleavage, it always happens, no one denies it any longer. It's even not mentioning all those minor wrinkles, folds and rolls being erased.
And finely, eyes and teeth are also a target when it comes to photo retouching techniques and image manipulations. Teeth are made whiter, no doubt, and eyes brighter acquiring a playing glance. Even make up may be fixed a little, just in case. They seem to be such trifles, like who pays attention to eyes and teeth when such enchanting bodies are exposed in front of you. But no, everything in Victoria's Secret photo images should be perfectly impeccable.
Well, it all makes sense in the end, when you see a final product. Love it or hate it, their photos turn out to be bewitching, so it's worth the hype.
Like and share the post
You are welcome to rate this post
The post's average rating:
---