Couples boudoir photography – hot and steamy
What can be more thought provoking than half seen almost naked bodies of a couple in the shadow of the light, seen only due to the solver shining of the moonlight, captured as if of a sudden? Right you are! Gorgeous couple boudoir photography! Nothing can be compared with this art of conveying the shapes of a human body, natural and hot, shy and at the same time daring.
Hot underware, lace outfit or just naked beauty of the body, depending on the desire of the customer, contribute to the passionate atmosphere and build strong tights visible through out Couples boudoir photography. With couples boudoir photoshoot love, feelings and emotions of the two step into the life, made vital with camera in the hands of skilled artist.
Being quite frank, couples boudoir photography is quite different matter in comparison with single or regular one. As it often happens, women are looking for a master of photography who is able to put on canvas all of her beauty, provocative and passionate side, and at the same time romantic nature. As a result, magnificent albums and pictures will be received either for personal achieve or for a present. A lot of people are obsessed with shooting single boudoir photo, since you can see in your own eyes how the person becomes more open in front of the camera and shows all the sides of the nature: romantic and at the same time daring.
Couples boudoir photoshoot turns to gain more popularity with every new day. The most possible reason for that since it is a good present for each other. It is a unique chance to film precious intimate moments of the couple. What is more, it is the time spent together that value immensely once again. However, it seems you be like that only from the first glance. When you come across such photo sessions you understand that an awesome couple boudoir photographer will provide the couple with a professional guidance in order to compose the images in the right way: perfect curves and natural angles of the body parts to consider and to pose. Through the lines of couple's body the connection and the feelings between the two are perceived. Skilled photographer takes them as they are and finds how to make them come to life in the photography.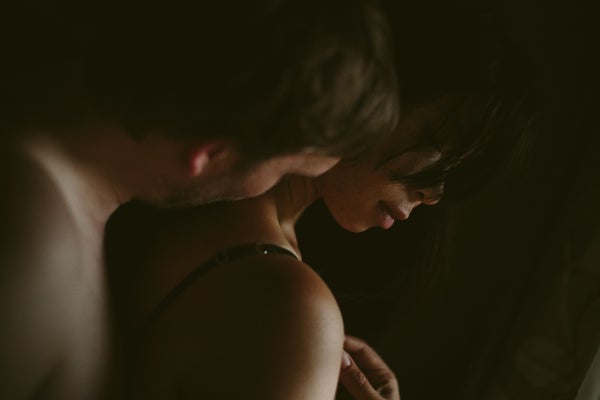 It is important to remember, that there are unbreakable rules for such boudoir photo sessions and they should be maintained. Your job on the part of the professional photographer is to make those images memorable and beautiful, capture each tiny moment of intimacy and affection.
It is the customer that is to choose the level of intimacy in the couples boudoir photoshoot. It varies from hot to boiling hot on the one hand and more childish fun and playful on the other. The photographer will follow your preferences and direct the photo session in the way you want.
There are hundreds of couples boudoir photography ideas that will definitely make the day remarkable. First of all, you can use boudoir photo set it you want to mark an anniversary or any other occasion of your life together. To continue the flow of ideas, there are even such couples that are to turn on to the couples boudoir photoshoot even on the day of their wedding! Well, why not? The emotions are fresh and the temperature of the feelings runs so high that it is a sure fire way to preserve the atmosphere of love and affection. And the list of such couples boudoir photography ideas can be endless since there are no borders for the couple creativity in such aspects.
Being couple boudoir photographer means to be ready to meet different people entering the doors of your studio. With time you understand that the entire possible stigma should be left somewhere outside the studio and there you are to work with your clients and be friendly and open. It is important since all of them come very nervous into the photo studio, only some of them may be ready at once to strip and take photos. In most cases, these are couples and they have their own story. Some of those may be already married others can be only dating. A dozen of them have children already. Yes, all of them are different but there is the thing that unites all of them except anxiousness. All of them come together in the need of documenting the emotions: ready and bright right now. Couple boudoir photo session is an opportunity to revive the feelings with new power, recollect the past and bring it into today. It makes possible all their feelings become memorable. What is more these images capture all the beauty of the moment: their bodies in close connection: young and beautiful, souls and minds concerned with one another. Couple boudoir makes possible the moment to cherish for all their lives in bright.
This kind of photo session is too intimate and your clients may feel vulnerable or even scared. They easily get lost. And it is normal. When the couple opens during the photo set and tries to discard all the anxiousness, the images occur to be sometimes even mysterious but definitely beautiful. People try not to notice you and come into their own reality, concentrating only on themselves leaving all the world aside their reality.
At this point, I would like to give you a piece of advice. You may take it or not, it is totally up to you, but still. If I were a customer, I would never agree to have my photo session done by a photographer though professional if I have never met him /her or even had a talk with. Saying nothing about the couples boudoir photography, which is very intimate to my mind. It would be nice if at least a video call via Skype was made on the eve of the session or you contact in any other possible way. There is such a practice when a photographer and customers meet in the place of photo session and have a little of chat. It helps to understand the ideas and see what clients want to get. In addition, it contributes to the full image of the personality of a client and helps you, photographer, to understand them better. On the part of the client, it lies a small connection between you and the photographer in order not to get so much confused with the artist on the day of the shot. Meeting in the place of the session makes you ready to everything since you already know what to expect from the place.
Speaking about the place, a lot of you would come to the conclusion that the most appropriate place is a studio because there you have all that may be required. It is cosy and there are no extra people around, so that you will not get more anxious. However, I would argue with you at this point. It is not only a studio that can feature as the place for boudoir photo session. Another awesome place is beach. Couple boudoir photography beach is a nice choice. It is unusual and even more provoking. In the majority of cases people stay indoors for the photo set. If you choose couple boudoir photography beach you will hit the target for sure.
Yes, I have almost forgotten about this issue. Closing! This item is extra essential. You will never feel and look confident during the photo session if your outfit does not suit you or you feel awkward in it. Well, if you do not like all those lace outfits, nobody is able to make you put it on. Jeans and undershirt? Nice! Wear it. Images still will be awesome notwithstanding the closing you wear.
Keep in mind that boudoir photography evolves naturally. You cannot say at once "Here we go!" and ask clients to show your passion and affection immediately. You know it is almost impossibly to do all that on the spur of the moment. Your progress will be natural as to that content as the partners feel each other, how they perceive the surrounding them decorations and you as a part of the background. All you have to do is to become a part of the background and adjust to the situation in order to make good shots.
To continue this topic, the natural question arises: what are your favourite couples boudoir photography poses? In what way do you put in practice the most daring and bold couples boudoir photography ideas?
Sure thing it is difficult to answer these questions at once. Meanwhile you are thinking, I am ready to share with you my experience and ideas concerning my favourite couples boudoir photography poses and ideas.
Couples boudoir photography poses
It seemed to be complicated to find the gold middle at the beginning of my work with couple boudoir since even the best nude photography websites could not help me with all that stuff. It was time and practice that made me understand all the ins and outs of such an amazing but at the same time even tricky industry of photography art – couple boudoir. Having gone through a number of photo sessions, everything became clear. Using a number of poses repeatedly in new interpretations, changing background and outfit will do you good. Therefore, here is my top of couples boudoir photography poses.
I like this to be the first one to share. It is simple and hot. There is nothing to be extra: no nudity etc. at the same time it is awesome and hot for sure!
This pose suits those pairs who are a bit shy or anxious. The photo is intimate and sensuous. However, nothing is shown below the shoulders your imagination pains the continuation itself. It is a nice starting pose of the session.
What I like about this one is that it drives your fantasy. It is totally thought provoking even without showing more than other boudoir images could. You are in the condition of constant waiting as if the picture will come alive.
This pose shows to good advance of a woman. Pay attention to the position of her arms. Raised arms make her torso seem longer and slimmer, the breast is slightly up.
Once again the contours of the woman's body make the most out of the image. Shadows and the poor low lighting make only some shapes visible. A part of her breast, her tummy and hands of her partner and that is all what you can see. This image is very hot and suggestive.
The pose is awesome. We like it and decided to share with you on a number of reasons. To begin with, the fair is in the perspective that fully shows all the dears of the body curves. What is more, it seems that it is she that is in charge of the situation and all the power is given by the amazing shapes of her body and herself feeling hot.
This photo gives us the idea of a to-go image. Simple and charming – it is perfect for the beginning of the photo session. You can easily drive your customers into it since there is nothing special about it except the connection and affection of the couple seen in here.
You may ask why I have chosen this one if there is nothing special. We cannot deny the emotions of the photo. They are natural and shining. Such emotions bribes more than any photo in the world.
Look at the shapes! They are magnificent in the shadow. The lighted back of the body drives the imagination of the viewer.
It is complicated to sum up all the variety of poses that are in my mind right now. Since with every moment a new one comes into it and I cannot but share it with you. To make the list fuller I decided to share a video with you. Here you can come across the most common and bets poses that can make your couple boudoir brighter.
The images you and your customers get after couples boudoir photo shoot are the works of art. Do not be shy to admit it. Make it hang on the walls of your room and be proud of them. You will definitely would like to have couple boudoir photo session once again as soon as you stop being shy of yourself. You will definitely see even a funny side of it.
There are no borders and measurements for couple boudoir. It suits everybody. Nationality, your believing, tattoos, hundreds of piercings and your curves does not matter here any longer. What is valuable here is the idea of the two brought into the reality and the skills of the photographer doing that. Make yourself funny, hot and steamy in front of the camera but be trues yourself and shake the world around you.
In order to make all the above said real it is important to choose a photographer skilled enough to put it into practice. Sure thing best boudoir photographers from Europe can help you to see in your mind's eye who should this person be like or who to look for in the pursue of your dream. It is obvious that these photographers will boast of high photo retouching rates. There is nothing to wonder about, people constantly working under their proficiency and are deeply concerned with the improvement of skin retouching online abilities.
Our team is not lacking behind the top photographers. We are a company of young and aspiring photo artists that have found their own way in professional body retouch. Our artistic vision of a human body is presented for the audience in a number of photos of our digital retouching portfolio. We believe that there is no boarders for self development and improvement of the body curves, in terms of photo editing to the great extend. That is why we constantly and persistently involved into the process of miracle creating. Our clients are greatly satisfied with the images they get after we have worked under. They usually come back to our company for new positive emotions and of course professionally edited photography. You should enter the company of our constant customers and experience everything yourself. We are always ready to welcome you!
Like and share the post
You are welcome to rate this post
The post's average rating:
---