TOP 10 Best fitness bodies - fitness model Photoshop
Almost each at least ones in their lives have told themselves that they will start attending gyms or just run in the morning because of the desire to have a great body to be proud of. Thinking about it in general is an easy thing, but get up in 5 or 6 a.m. to have a run in the nearby park can be treated as a feat of courage and endurance. Sure thing it is not enough. Only hard work and persistence will make our body awesome.
Probably you are sort of inspiration and motivation. Actually, you have some but a few. In the following article, we are going to get an overview of best fitness bodies on Instagram. You will definitely become so much fascinated that will start running in the morning on the next day after reading the article. Instagram now rules the world and claims things that are to be in fashion. At this point, you at least would have a burning desire to be trendy and look fit. Since you want to take part in nude photo session and look gorgeous on the shots, you should be not only with pretty curves but also be aware of photography trends. This knowledge will definitely help you if you already have made up your mind. Furthermore, the following girls are an astonishing example of determinance and persistent work.
TOP 10 Best fitness bodies on Instagram
To start our list we will speak about @Sally_Fitz. She is a paddle boarder. Being only 26 year old, she is famous America and Australia. Sally is a member of the World Surf League and has already gained a lot of awards, medals and titles. By the way, she is followed on Instagram by half on the million subscribers. Her account tells us of what she is doing in her everyday life, what her life style is and other small interesting things.
Everything starts of course with common things. There is no doubt that she trains a lot. After that she takes her things, bathing suit, surfing board and runs to the beach to conquer the waves. Instagram is full videos of her training and surfing.
You will definitely get surprised when you will find out that Sally trains not only on waves. She is fond of riding a bike, numerous mock drills and of course jogging and games with ball. Nothing strange! Her body is amazing and fit. Every girl would be jealous.
Apart from playing games, jumping from the cliff with their friends and all other activities, Sally plays chess and meditates. She is engaged into yoga. It help not only to rest the body but mind also.
Generally speaking, she makes an impression of very positive and charming girl. She always smiles and there tens of funny images on the account.
You will definitely agree that having a look at such a charming and perfectly shaped girl is worthwhile. Besides, we already feel how your motivation is growing.
Next awesome fitness body belongs to Kate Usmanova. She might be the author of an article about the best selfie editor as her blog is full on interesting images. Probably, many of you know about her, but still we could not but mention her profile. We would not forgive ourselves if we forget to write about the most charming, cute and amazing champion of Russia in fitness-bikini. This blond woman has collected nearly a million subscribers on her Instagram account. Her pictures just breathe motivation into you and make you feel full of energy.
Her blog is reach on beautiful selfies, photos in undergarment and beachwear. In addition there is a variety of wholesome advice for girls who are interested in sport and. She provides her audience with quite interesting videos.
The message Kate wants to deliver to her subscribers is the following. Everybody should clearly understand that the proverb "as you saw you shall mow" is perfectly suitable here. Especially if it concerns the diet. You have to decide what you want and how far you are ready to go in order to hit the target. You should not use all you time and effort on this thing. Think first of all about your private life and health. Only after that pay attention to it. It is like an investment in yourself but the issue about the "price" should be adequate and in no way harmful.
There is a great variety of coachers and diet experts nowadays. They can easily propose you a number of methods and diets of different kind depending on your aim. Somebody likes to be involved into training and eat many sweets at the same time just because the average results are acceptable. Unlike those who prefers restricting themselves in products and always be on top. Kate claims to have found the golden middle! The point is that for each of us it is different. Everyone would have their own and when making a choice it is you to held response when you feel that you miss chocolate or that there is some extra fat. Nobody says that you should look as if you are from the TV screen came into reality. The point is that you should accept yourself the way you are and understand that the result will not come from sitting on your sofa. If you want a beautiful and fit body you should work hard.
We believe that Kate's opinion is rationale and adequate. It may seem not too much motivating but is really makes you think about your desires and priorities in order to understand your inner desires and motifs.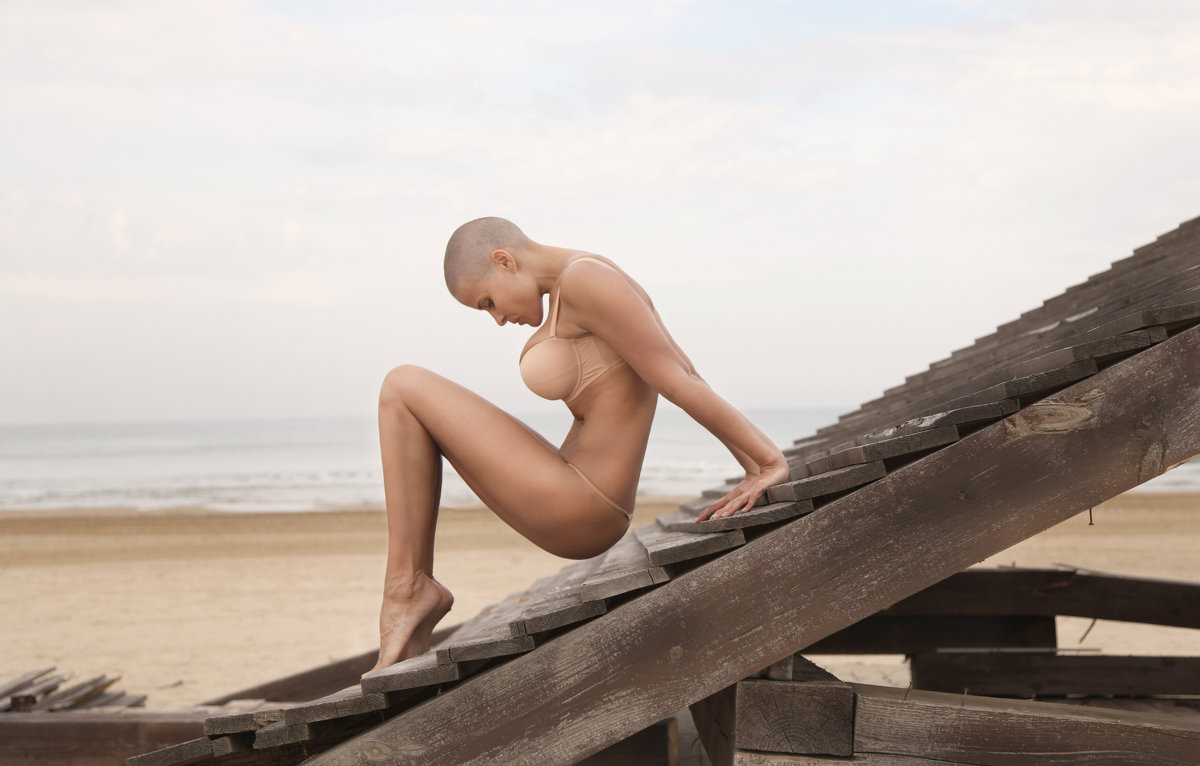 Next person we are going to pay our attention to is @vovchenkomaria. She is 35 and she is so much extravagant not only in her appearance but in the inner world that it is hard to come by her. People cannot be calm about her. Nearly a million of subscribers follow her life, pay attention to her advices, wright in direct and put likes commenting posts with pleasant words. However, there are those who are banning her. We would like to know what is special about the woman that makes her so special.
Sure thing it is her hair do that attracts your attention. Well, she is actually bold. Than it is her body. It is awesome and it is difficult even to argue about it. And of course the breast. She says that it is silicone plastics, which she has to be thankful.
In her blog, she speaks frankly and quite openly on intimate topics and shares her life stories. She does not feel uncomfortable about her body. Sure thing that not everybody would like that.
By the way, Marina's husband is 25 years older than she is. They have three charming kids. They are together for already 25 years, 13 of which they are officially married. Her husband's name is Valeriy and she cannot stop admiring him. "He is the best daddy in the world. I can rely on him in everything and even leave small babies with him, because I am sure that they always will be fed, clean. Physics is his second love after me. What has driven me to him? I cannot realize it yet, and still we are together". Actually even the strongest advocates of her cannot understand that situation.
We believe that if Marina made up her mind she would look gorgeous on naked wedding since her body is perfect and very much attractive. Though everybody can get this idea and make it come true. It is common practice today.
Marina has a twin sister. The only difference between them is the hair do.
Crowning it all, Marina is an awesome coach in yoga. She often posts in her blog great exercises and even gives online translations of her trainings. That's why all girls who really want can train together with her via the Internet. In addition to all these things, Maria gives some pieces of advice for those who want's to look fantastic on photos.
The image above shows us how she looked like before she made up her mind to change her style and shaved the head.
We believe that this woman is worth our attention, even if we do not share all her ideas and beliefs to the fullest. Her blog is full of helpful tips and interesting information that everybody can make note.
Did you know that to achieve perfect forms of the body to can through dancing twerking? Now you will! We are going to speak about @M.A.M.A.S.I.T.A., or in other words, without nicknames, about Maria Skorchenko. She is from Kyiv, Ukraine. This girl is fantastic in booty dance. She provides her dance workshops in Ukrainian capital and, actually, they are going to spread all over the world. She gains popularity very fast and there is nothing to do with it.
In the Instagram account there is a great deal of videos from the workshops and just made for fun. Maria even was screened in the music video of Ukrainian based band "Hriby". Oh, people merely envy her because of her fit and beautiful body. Maria is veery hot!
This girl is a queen of twerking. After coming through a couple of videos in the blog you realize that it is quite a good strategy to be engaged in this booty dancing in order to have perfect forms of the body. Yes, it needs much determination and struggling to learn to do it like that, but, actually, it is worth the results.
Do you know the girl whose name is Jane Senlter? She has got nearly more than 10 million subscribers in her Instagram. Jane made an account in March 2012 and started sharing her success with the broad audience. The main topics are, of course, connected with fitness, trainings and various sport secrets. Already in 2014 there was the first million of subscribers and popular magazines and TV shows started inviting her and asking to give an interview.
Only in three years, she has collected millions of followers in all the biggest world social networks. This girl is unstoppable. And she is only 23 years old. Somebody would say that such a wave of success is not for such yang age. But does it really matter how much old you are if you look book and fit and the whole world admires and envies you.
By the way, the particular attention is driven to her buns. Jane considers them to be very hot and pretty. Do you support the idea? As for us, we really do.
If you want to find out her secret and become a member of huge Jane's family, than you should subscribe on her account.
Another Slavic model-girl is Sophie. Soon there would be a million of followers on her blog and she is actually starts conquering Russia. @SOFIA_OFFICIAL is very much demanded in her sphere. She takes active part is different model shows, concludes contracts with famous brands and stars in multiple advertisements of top brands. The curves of her body will make everybody jealous. Mind, she worked hard to get that what she has now!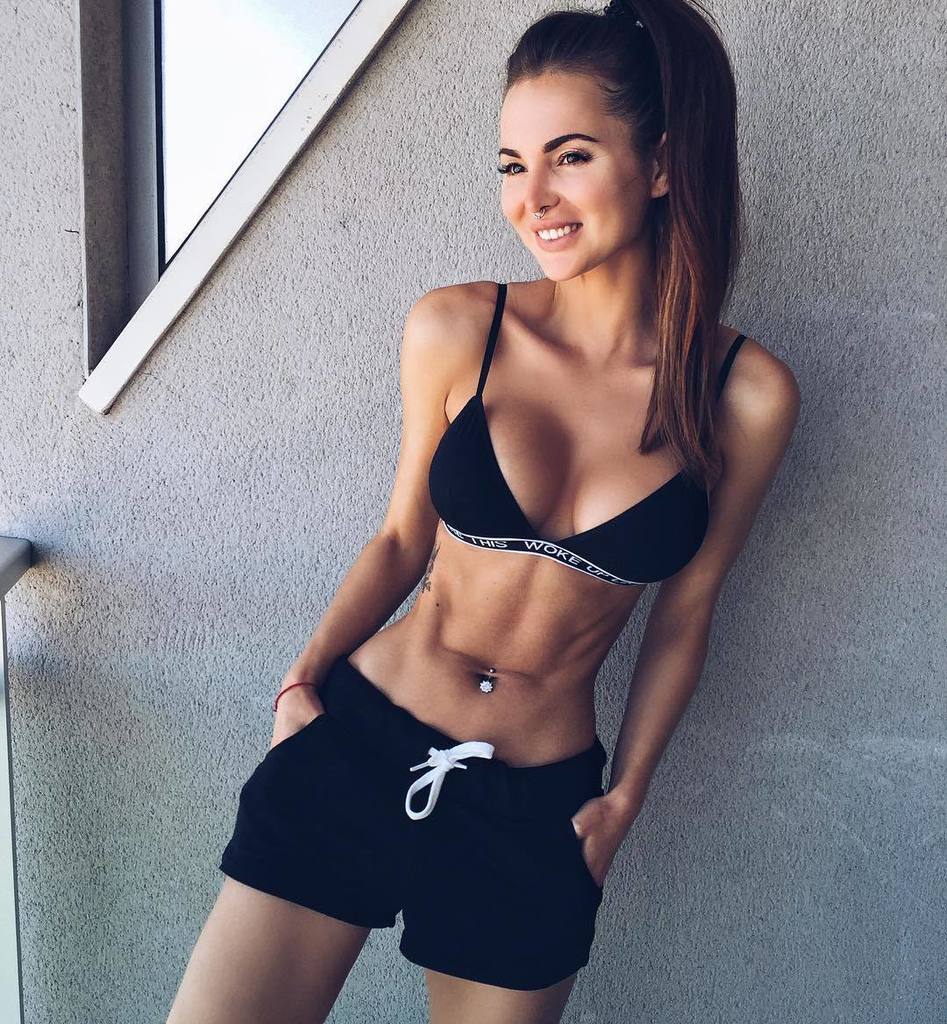 Her account is full of gorgeous photos depicting the model in all her beauty. In comments she speaks frankly on different topics. For example, the girl puts into words her ideas concerning the breast augmentation. Sophie openly claims that she has undergone this operation and she likes the result.
This model is extremely frank and aspires all her thoughts openly, without any hesitation. It is very interesting and involving to read such blogs as they make you think of things you would have never even given a glimpse.
Girls are not always extra fat are coming into the gym or starting attend fitness. There are cases when girls are too skinny and that becomes their Nemesis. It is difficult for them to put on weight no matter how hard they try to do that.
The same story was about the next girl we are going to pay our attention. When coming across photos of her in her account you would never believe that ones she was suffering with anorexia and was almost capable of staying on her thin as stick legs.
20-year-old Cortney started her blog in Instagram in order to show to people that some problems with health can be solved. Only thing you need is to work hard and be very much determined, since you really want to change it and hit the target.
Cortney in one of the comments in her account writes that she used to take as a model those girls from fashion TV shows. She considered them to be very beautiful ant tried to become like they. Unfortunately, she received some problems with her health – anorexia. Now, Cortney asks girls to spot doing that. That beauty is far from real one and guys actually do not very much like that. She says that you should better indulge in healthy eating and go to gym since it is much more attractive and the results of it you will not wait for long time. That is the message Cortney to all her followers and there is approximately 140 thousands of them.
There are a lot of videos in her blog dealing with her trainings, showing how and what she does in the gym, a couple of those showing the transformation of her body though out years. The comparison is just incredible; you will not believe your eyes when go through a couple of them.
That is how life can change immensely only because of the choice we make. That's why before indulging in some kind of activity or if you are obsessed with a particular idea concerning your body, we just ask you to think about you choice in the proper way. Since in some of the cases no skin retouching online will help you. And the commonest five mistakes in skin retouching online will be definitely quite vividly seen.
A couple of the next girls have attracted our attention not because of their controversial life story but due to the amazing body and gorgeous curves.
Amanda Brisk used to be pole-vaulter. Now she is a yoga instructor. Her blog and today activity consequently concerned mostly with stretching, health nutrition and body toning. Her curves are gorgeous. This girl has a lot to show to us in her account.
Hannah Bronfman is not only a great DJ. She is very passionate for fitness and considerable trainings, health nutrition. If you follow the hashtag #HBFit you will find out more info about this gorgeous girl and will enrich your collection of good advices of how to make your body look fit.
Emily Skye is the founder of the program F.I.T., which has recently spread all over the Internet recently. It focuses on special diet and workouts in the gym. Her Instagram is full of tutorial in workout; numerous ads, which are, definitely will be helpful for you to take into consideration.
Not all the people are eager to show their identity on the Internet, some of them wish to stay anonymous. The same story with the girl who indulges into yoga, post at least an image of a new pose every day and remains unknown. Her black and white photos are amazing. They will definitely leave you embraced.
Well, crowning everything mentioned in our article, we assume that proper nutrition, regular trainings and full sole of determination will lead you to the curves of your dream. The point is not to become too fanatic when losing weight and do everything consciously. Glamour photo editing will help you to capture all the sides of your gorgeous body. There is no particular answer on the question why glamour photo editing is so popular. We are strongly convinced it is because of the society, which becomes more open with every new day and doesn't feel uncomfortable when the naked body is seen.
Our retouching company is a specialist in this sphere. We know how to apply skin retouching online since the specialists in body retouch are working in this sphere for a number of year and are very mature. Our company is concerned with showing the beauty of the human body as it is. Our images lay an accent of the natural fascination. Our clients usually are very inspired with black and white photo editing. It looks very charming and breathtaking, since in these images we reveal say the soul of the client. All the parts of the body seem as the continuation of one significant idea – Nude human body is gorgeous.
The cogent evidence for our claims are the significant photo retouching rates of our company, resulting in ultimate trust of the clients. We provide our customers with the qualified and accurate attendance. We are careful about their wishes and delicately contact with them throughout the whole course of our cooperation.
The samples of our digital retouching portfolio are always available at our retouching blog. There you will find all the necessary information, which is very interesting not only from the professional point of view, but also helpful to broaden you wind about the photo industry. We believe it would be interesting for you to get to know why do sportsmen use photo editing bodybuilding. You can 24/7 access it and if there are any questions we will gladly answer all of them. Even the most naughty and demanding clients are satisfied with the results of our work.
Like and share the post
You are welcome to rate this post
The post's average rating:
---