Professional yoga photography – a new fashion trend?
Professional yoga photography can be referred to a class of sports photography but more to exotic one. This direction in sports is very popular and therefore it is not surprising that photographers constantly try to surprise us with unusual yoga photoshoot ideas. In yoga there are many different asanas but the person who engages in this photograph style needs to select those poses that are most photogynous, choose the desired angle and certainly don't forget about body retouch.
In today's post, we will analyze the best yoga poses for pictures, understand how to take great yoga photos, examine the concept of naked yoga photography outdoors and get acquainted with a new Instagram yoga photography trend.
How to take great yoga photos?
In our time, yoga and everything associated with it are rapidly gaining popularity. More and more people are starting to practice yoga photography. So we would like to offer you seven yoga photoshoot tips that will help either photographers with professional cameras or amateurs who take photos on their smartphone or tablet.
1. Learn more about this style of photography
For starters, you can look through some magazines that are dedicated to this sport, to understand the magnificence and philosophy of this style. Then you should give enough time to study the yoga photography lighting. Usually for professional yoga photography is used scattered, soft and flat lighting. Try to minimize the shadows to get an expressive look on the outcome. You can also pay attention to the study of grainy on yoga photographs, because some photographers rely more on the content of photography (model, background, etc.), while others use skin retouching online to emphasize lighting and graininess.
2. Positions - incidence of light
It plays an important role in any photoshooting and unfortunately it can make several problems too. When you take yoga photographs, you must always consider yoga photography lighting. To avoid creating shadows on the face, the lighting should be placed in front and not behind. It may happen that the light falls at the right angle, but in the eye area a sufficient number of shadows are formed. Therefore, you must be convinced that light falls on the model perfectly, without creating unnecessary shadows.
3. Contrasts and colors
The third tip is very significant to make artistic yoga photography examples. The central composition should be made on the pose, so you will need to monitor the color of the clothes and the contrast of the background so that they don't stand out against the background of the model. It is also necessary to avoid having the model wearing clothes that match her/his skin color tone, because it will look like a skin. We think you'll agree that it's easier to prevent these problems before photoshooting, than correct them already in LR or PS.
4. Use natural lighting
Want to have yoga photography outdoors samples, try to use a slightly overcast or misty light (more diffuse sunlights) and you need to pay attention to whether the model is in shadow. Also don't forget about such remarkable natural phenomena as sunrise or sunset, thanks to which you can get amazing pictures and an incredible background.
5. Don't go too far with Photoshop
If you have well-tuned yoga photography lighting and select best angles, not worth go too far with editing. You can check the framing and play with the contrast, brightness and saturation. So we recommend reading our article about Boudoir photography editing and movie boudoir shootings.
6. The best yoga poses for photo shoot
An important condition for successful yoga photography is how skillfully the model accepts one of the yoga asanas. It is necessary that this pose had previously practiced. Choosing the right angle generally can lasts long for amateur, and for the model it must be comfortable to be in pose which you chose for photography.
7. Just do it
People who do yoga have such moments when on the trip they see a great place for yoga photography outdoors. But often it happens that they are embarrassed to do this, because their unusual poses will attract people's attention and they will not feel comfortable. Therefore, we advise - throw aside the embarrassment for the reasons that you can no longer visit this destination, and you probably will not see these people anymore. But at the same time, you will have a photo, maybe it will even become a favorite one, with a memory about that place and those emotions.
How to make the best yoga poses for pictures?
To make an excellent yoga photograph, the model does not necessarily take a very difficult asanas. She\He can choose simpler but equally elegant poses. We selected exactly the best yoga poses for pictures.
1. Eagle
Maybe for somebody this yoga photography art pose will seem complicated, but it is very simple. All you should do is to cross the right leg over the left one. Then you should bend your knees slightly and to look light; and the last step is to cross left hand over the right one. The model in this asana can be photographed anywhere, both on bank of the river and in downtown of Manhattan.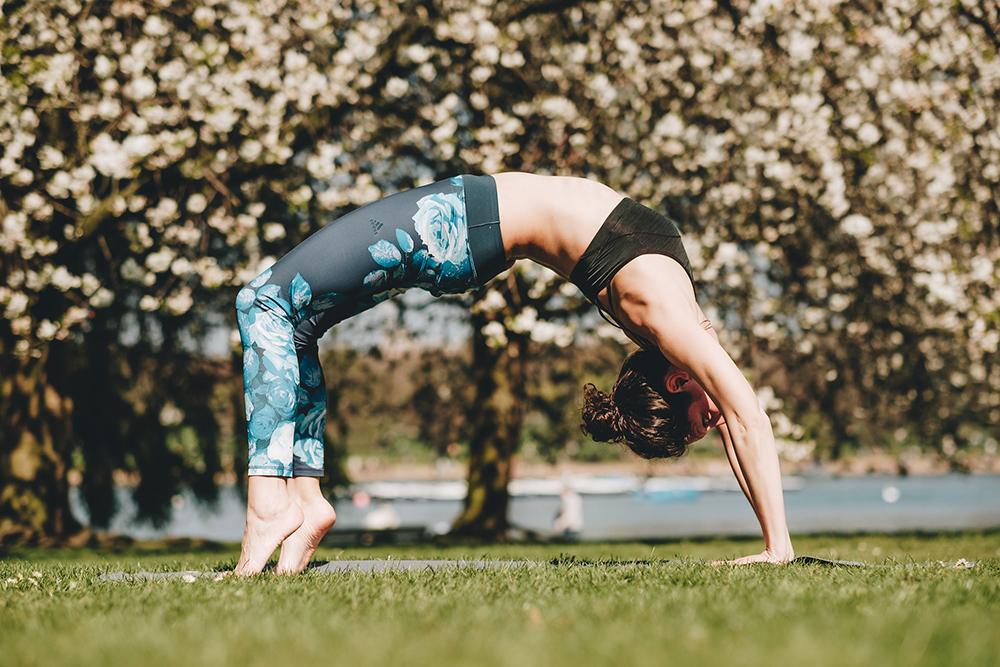 2. Tree Position
Everyone knows the next pose. Do this asana love yogas and other people who want to be photographed in some unusual and beautiful pose. All because this pose is incredibly easy. All you need is to move all the weight to left leg, and put heel to your knee or above at a wish; you should receive the right foot doesn't slip, it should be pressed to the left leg. Hands can be pressed together or raised above your head.
3. Open Triangle
This pose we used to see on yoga photos with the background of sunrises and sunsets. But it can also be used for any other backgrounds. To make this one, the model should put the feet to the width of shoulders, keep a right foot straight, and turn the left leg somewhat to the right. Additionally, the model also needs to put the right hand on the floor or on the right shin, and pull the left hand up.
4. Dancer
To do this asana, you need to transfer the weight to your left foot and bend right knee. Then you need to slowly pull your right foot with right hand. You can keep your left hand in front of you. Usually models in this pose are photographed on the nature, but in the desert it's possible too.
5. Wheel
This one is considered to be the most favorite choice for women. To do the pose, you need to lie on your back, then bend your knees, and the next step is to put your feet on the floor and put your hands on the floor above your shoulders. Then you just need to lift the head, shoulders and hips in turn. You can bring your hands together a little.
6. Upward Facing Dog
And finally we have prepared for you one more simple beautiful asana. All you need is to lie on your stomach, put your hands at shoulder width and lift your head, shoulders and a little thigh.
Extraordinary yoga photography outdoors
Usually people do yoga in order to lose the negative, feel more calm, confident, etc. And if you practice yoga outdoors, you can also get strength from nature itself and become a unitary whole with it. It can help achieve new levels of openness, joy and clarity. Therefore we decided to write about some yoga photoshoot tips outdoors.
First of all, you need to discuss with your model the goal of photo session, ask her/him to send you the chosen best yoga poses for photography and then you can choose a suitable location. Bring a few types of equipment with you to make the photos more diverse and to understand which one most reveals the naturalness and atmosphere of yoga photography outdoors.
You can also think about accessories that can emphasize the style of the model. As with any photo shooting, you need to take into account the yoga photography lighting and angles. You can ask model to slow down the flow to make different compositions of the asana.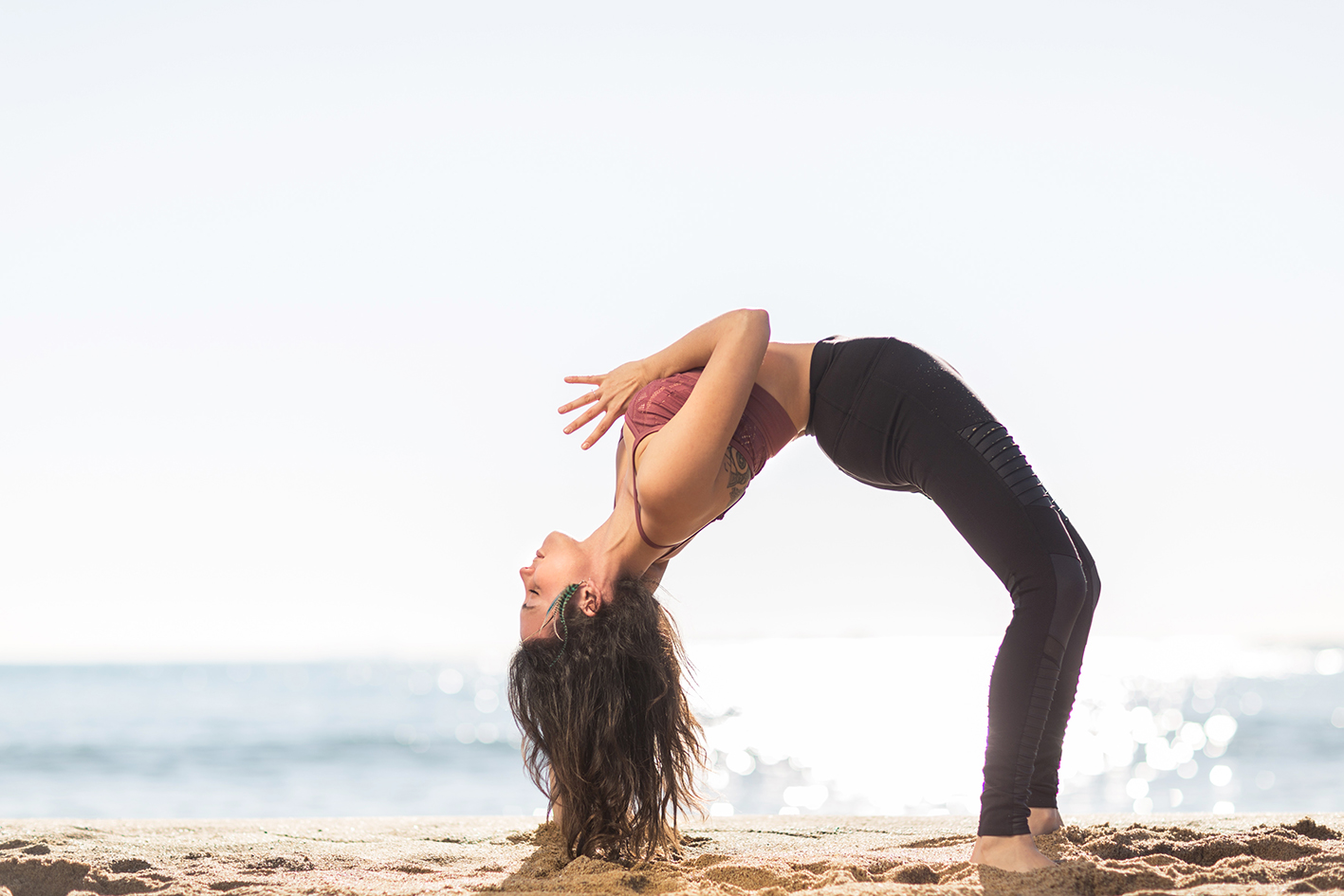 Particular attention should be given to the background. Because when you are photographing outdoors it should be attractive, but at the same time, should not distract attention from the model. It's desirable that the background was in pleasant colors for the eye. Good places for a photoshoot can be: park, riverbank, desert or it can be the background of ancient buildings, all those places that give a sense of tranquility and unity with nature.
Instagram yoga photography trend
If you are very familiar with Instagram and spend enough of your time there, you probably noticed that now there was a new trend - naked yoga photography. We can say that the founder of the trend was the profile in Instagram - Nude Yoga Girl (@nude_yogagirl) which already has 720k subscribers. As the girl says, she wants to inspire people and that they understand that all are beautiful and with their bodies they can do incredible things.
Girl and photographer started to promote her hashtag #NYGYoga, right after they realized that the profile of the girl is rapidly gaining an audience. They have started to do this so that other girls (not only) who are engaged in yoga don't hesitate to publish their nude yoga photo.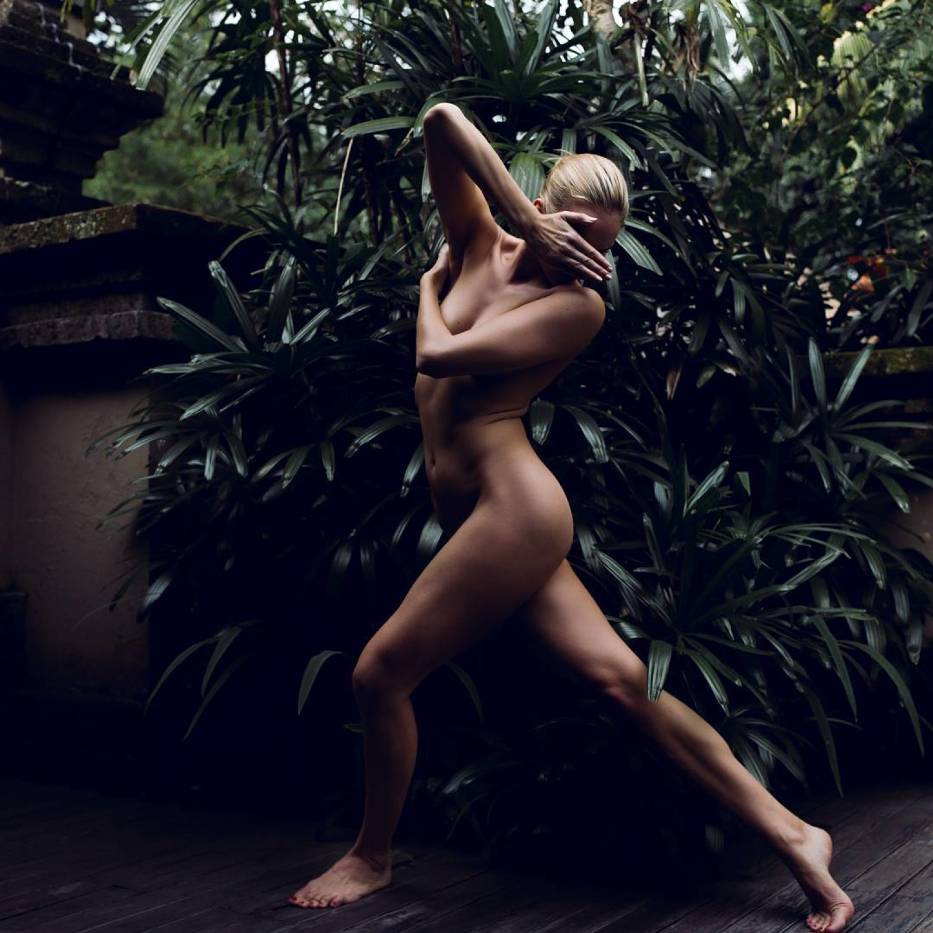 Therefore, if you are a photographer and know a person who is engaged in yoga, you undoubtedly can take professional yoga photography in both the studio and outdoors. Because it's beautiful & etastatic and at the same time there is one more way to becoming popular in Instagram.
So, in the article, we have analyzed how to take great yoga photos and what you need to know in order to take professional yoga photography. We chose best yoga poses for pictures and acquaint with a new trend in Instagram.
But it happens that the photographer had interesting yoga photoshoot idea, has perfectly chosen the location, where good yoga photography lighting was and an incredible asana, but he/she doesn't know in which style it is better to edit. In this case, you can rely on us, as we approach each photo individually and make it unique. We invite you to familiarize yourself with our digital retouching portfolio and photo retouching rates.
Like and share the post
You are welcome to rate this post
The post's average rating:
---