Recommended Photography Gear for Boudoir Photographers
It is an open secret that the term "boudoir" is common place in the sphere of photography. Contemporary pictures made in boudoir style are loyal to the particular subject matter – they are believed to be candid, but also they exquisitely picture people partly clothed or in lingerie. Boudoir photography stands out from the herd and occupies an important place in our life. Thus it embraces a lot of spheres, which make a pleasant contribution to daily routine. For instance, such a photo can be a perfect present for Birthday or St. Valentine`s Day, it can show body alternations and be used in different services. Consequently, photos must be of high quality and be full of life and vividness to make your clients satisfied.
It will be no exaggeration to say, that a photographer, even being a gifted auteur, can`t make pictures without appropriate professional equipment and sophisticated editing techniques. It is a helping hand and an integral part of the profession of photography. So in order to keep up with the times using the modern technology study the info about photography gear for boudoir photographers!
Source: teetranphotography.com
What Lens Need Boudoir Photographers to Buy?
This question deserves close attention since it is rather frequent if talking about such a specific kind of photography – boudoir picture. The answer is rather simple: the choice of lens completely depends on you! In other words, you should decide, what lens do you consider to be the most favorable personally for you? What techniques do you prefer? What locations and backgrounds do you shoot in? Are you able to use long lens (if you have enough space to back up)?
Source: si.com
The most crucial factor is, of course, what camera body do you have? For example, if you have Canon 50mm f/1.2 lens on 5D mkIII, which is a full-frame sensor camera, it will the other way than it would on Canon 7D mkII, which is a 1.6 crop frame sensor. Needless to say that 50mm lens would function like an 80mm lens on the 7D. Things seem to be different, don`t they?
So, what conditions should you pay attention to, in order to make the right choice?
Source: sobadsogood.com
1. Take into consideration the light. If you often shoot in localities, where the light is low, you may use lenses with larger aperture openings (the smaller the number, the larger the opening). Lenses that are f/2.8 or even better, like the 50mm f/1.2 mentioned above are the right tools while making photos without flash or under low light conditions. Besides shallow depth of field created by an f/2 or so can be inestimable for highlighting distinctive features of human body. Nevertheless, the "Thrifty Fifty" 50mm f/1.8 is a great lens, and the 50mm f/1.4 can do a good job. Same with the 85mm f/1.8. However, you will always need professional boudoir photo retouching, for the photo to be of the best possible quality.
2. Are you going to make the camera body more powerful and efficient? If the answer is yes, you should be sure that your lens will make friends with different camera bodies. For example, wide angle lens such as EF-S lens, work only on the cropped sensor line of Canon cameras. If you try a full-frame camera (the 5D), wide angle will no longer work with this body. As for Canon gear, the EF lenses function on all camera bodies. The EF-S lenses are made only for the crop-sensor camera bodies.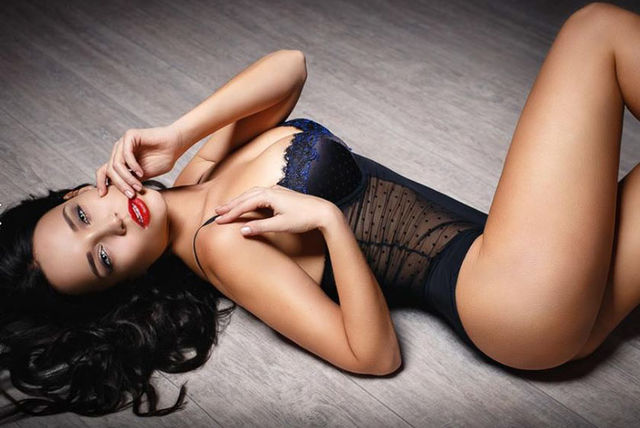 3. One more useful piece of advice is to try camera gear before you buying. Surf on the Internet to communicate with some photographers and find out whether they can loan you their gear for you to test it. Moreover, they rent not only lenses, but also flashes, camera bodies and the other things. You may save a lot of money, by doing that. In addition you may outperform your competitors having more experience and knowledge about various kinds of photography gear and photo editing pricing.
Source: mojobarbershop.com
Mirrorless Cameras for Boudoir Photographers? Yes, they are!
Nowadays mirrorless cameras gain widespread fame and can be a good friend either of a professional shooter or of an amateur. Boudoir photographers should pay special attention to this kind of gear as it has variety of advantages.
• Weight and size. It is one of the main reasons to buy a mirrorless camera. If you are tired to take a heavy gear with you all the time, or have some problems with your back, it will be a great portable device, which may bring a lot of joy while working with it.
• EVF (or Electronic Viewfinder). Now EVFs are quite sharp and reduced time lag issues. They provide the opportunity to see the clear and accurate exposure before you press the shutter button.
• As Quick as a Spy. Lots of mirrorless cameras today can boast an electronic shutter option, which provide you with a faster shutter speed than 1/8000, a burst mode that can surpass 20fps and a silent shutter.
Source: fashiongonerogue.com
• Price. Of course it is quite doubtful that mirrorless cameras have low prices, but one should take into consideration, that the average price of a professional body mirrorless camera is much more less than a dSLR. Also we suggest reading about The best nude photography websites where you can find new info for you.
So, do you want to know the best mirrorless cameras for the best boudoir photographers? Here you are:
FujifilmX-T2
Source: bhphotovideo.com
Weight: 1.12 Pounds
Price: $ 1, 599
Megapixels: 24.3
Sensor size: APS – C (23.6 mm x 15.6 mm)
Olympus OM – D E – M1
Source: rosphoto.com
Weight: 15,7 ounces
Price: $ 899
Megapixels: 16
Sensor size: 4/3 (17,3 mm x 13 mm)
Sony A7RII
Source: fstoppers.com
Weight: 3 Pounds
Price: $ 3, 198
Megapixels: 42.4
Sensor size: Full frame (36 mm x 24 mm)
Some More Hints to Shoot Beguiling Boudoir Photos
As we know, when it comes to boudoir photography, there exists something very special and zesty in it. It rather implies nudity than explicates it. Boudoir photos are sensual, they show real feelings. Thus, providing appropriate conditions for making extraordinary nude photographs is of great importance.
Source: fashiongonerogue.com
Take into account personal attitude. Find out, what a person likes in his or her body? What gives self-consciousness to a person? Choose together the best poses for a nude photo session and make it pleasant and relaxed!
Evoke emotions. Try to make a person feel particular emotions you want to show: passion or shyness, wildness or fondness…Talk to a person, guide him or her give some pieces of advices and it will bring success.
Source: pinterest.com
Look for the light. Exploring the effects of light can play an important role in boudoir shooting. Pay close attention to the direction of light, its color and source. Moreover watch the shadows, since they may create unfavorable effect.
Online editing services. Don`t forget to fix the photos and enhance their quality! Use professional boudoir photo retouching to make your photos competitive on the labour market. We are sure that it would be useful to visit FixThePhoto to fill the info gaps about everything concerning photography!
Like and share the post
You are welcome to rate this post
The post's average rating:
---