Online photo editor makeup and hair - video tutorials
Online photo editor makeup and hair is a part of the basic things needed very much in the work of photographers and retouchers. There's no sense in stressing that nude make-up style differs extremely from an evening make-up that is usually made for some kind of going out: for theatres, restaurants, parties, and so on. The same happens with hair. Skin retouching online is a perfect choice for the specialists whose models did not do their make up in the right way or did not do it at all.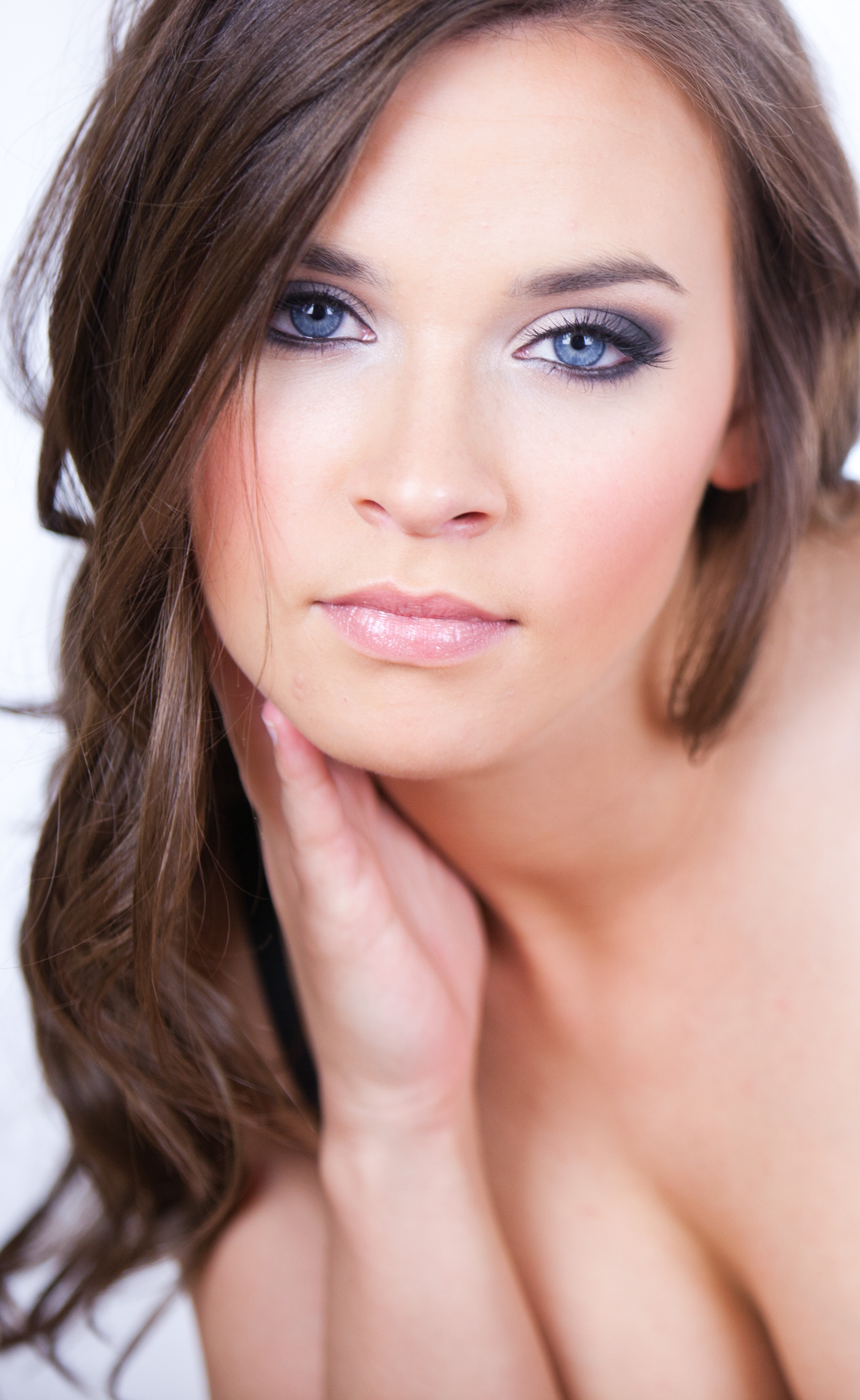 Beauty is totally a relative concept, so the makeup should only depend on the idea of a photoshoot and face editor online should be a tool, not an aim in photography. Today it is possible to adjust the appearance of the person to any ideal of beauty - your own or any country's due to the airbrush makeup photo editor online. This is a fact proved a long time ago. According to the body positive movement, so important in our times, there do not exist ugly people, but there is a difference of tastes. If you want to know more about the usage of the retouch in boudoir or nude photo shootings, give a chance to our article "Boudoir Photoshop photo manipulation – Sirens shoots".
10 makeup photo editor tutorials in videos
1. Enhance Makeup in Photoshop
The first tutorial is this video. It can tell you about enhancement of the portraiture in Photoshop. This hair and makeup photo editor is good with the lack of the dilly-dallies, that are so common among YouTubers – the author comes straight to the theme i.e. to the point of the video. Very often a tutorial is made in quite good quality, but it goes twenty minutes or even more and if you are new at enhancing hair and other head parts in editors you will evidently not be able to concentrate well enough to go step by step through the whole video. Another plus of the author's method is that she doesn't enhance the eyes whites, which in our century looks extremely unnatural because people work a lot with texts, documents, on their computers as well – and the redness of the eyes is a constant companion of the majority of working people and students today, and it's totally normal for them to want a beautiful photo session.
2) How to retouch skin
The second video is a good example of a boudoir portrait photoshooting and of a face editor online. It contains all the necessary elements of working with already existing make-up, but it fixes the skin flaws that the model or a make-up artist did not succeed to hide with cosmetics. Actually, the better your client's make-up is – the less work you have to do, so here comes a sincere advice – tell all your customers to work on their hair and skin well before the photo shooting process, because sometimes you may come across a picture that is stunning, but along with that it's ruined by a small detail that no one has noticed before.
3) Retouching skin
The third video is very thoughtful and many details become clear – how should one do this or that? Such makeup photo editor is really deep though it takes a lot of time, especially for the novices. So in the end it comes to the process of preparing for a nude or a boudoir shooting. Foundation of the "nude" makeup is perfect facial skin, which already hides everything, even the smallest imperfections. For this your models need to use concealers that can hide pimples, dark circles under the eyes and so on. Remember that the concealer will not replace a tinting cream, which is applied to the so-called difficult places, otherwise it may turn out with unnatural mask effect.
In spite of the fact that makeup in the style of "Nude" should be very natural, it does not mean that it is impossible to emphasize the eyes and add a little expression. The shades of beige, light brown or cream pass perfectly for the style. The color pick must depend on the skin tone, eye color and, of course, model's hair. Women of the warm type, with red or light hair can highlight their eyes with beige shade with a copper accent while cold browns should choose the shades of the bodily colors mixed with cold pink hue in order to ease the body retouch with the usage of airbrush makeup photo editor online.
4) Transform portraits in Photoshop
The fourth video is excellent for photo shooters and retouchers whose models decided that they want to look bright and not necessarily natural after the shots are already done. Such sudden transformations happen in all photography genres. One of the good online photo editor makeup and hair examples are almost any themed photo session, and you can see it for yourself in our article "Game of Thrones photoshoot – photos that you have not seen". By the way, nude photo shootings ideas tend to more and more be connected to the anime, films, and other characters, so this information will be unexpectedly useful.
5) How to soften skin (with Megan Fox)
The fifth video is really good because it's super short and super useful! It tells us how to make the model's skin look soft which allows her makeup, hair and body look perfect as if she was born this way. The same technique can actually be applied to the bodies on the shots and the less flaws will be seen – the more advantageous will be your digital retouching portfolio, which is any professional's goal.
6) Nude Retouching Time-Lapse by Neeraj Agnihotri
The sixth video is also short, but this time the author uses hair and makeup photo editor to transform an ordinary nude photo into something more interesting, I dare say, more intriguing, which makes the viewer seek to see more of the photographs. Such creative manipulations are often demanded by the customers so different interesting retouch games should be practiced beforehand just in case.
7) The Art of Nude
The seventh one is a really interesting editing not only of the models face, skin, hair and make-up, but there is an additional element that makes an ordinary nude pic much more deep and interesting both for the viewers and other specialists in airbrush makeup photo editor online. This case might be a little bit difficult for amateurs because the model is obviously plus size, which does not spoil anything. The photographer keeps her natural forms to show that each body is beautiful and corrects only the skin flaws that are inevitable on each human's body.
8) Imagenomic portraiture tutorial
The eighth tutorial is a great way of economizing your time essential for preparing and providing other photo shootings. In the meantime, we see, that the face editor online takes most of the time of this relatively short video and the model in the end looks significantly better, than was on the photo without any retouch at all. It proposes you to deal quickly and decisively with all the photos that you culled.
9) Boudoir Session Editing
On the ninths boudoir session editing we can quickly but nevertheless attentively watch how the hair and makeup photo editor deals with the stray hair, how the author enhances model's facial features and makes her make-up more expressive but not too much unnatural and leaves her lying like a goddess with modern features (beautiful underwear and piercing).
10) Black and white boudoir photo editing in Photoshop
The last in our boudoir tutorial series video demonstrates the usual for this genre thoughtful work on the skin, retouch of the model's make-up along with her hair, the author places accents on the parts of the photo he considers the most expressing and after that he does something that we did not include in our list before: he transforms a photograph from a colorful one into a black and white, which makes it very soft and gentle, so you feel both the tease and the tenderness at the same time. Such makeup photo editor experience is also a must for each professional because black and white photography will never go out of style and thus you ensure your master's skills in such delicate genres as boudoir and nude pictures in all of their possible forms.
Of course, being an always occupied photographer may flatter your vanity, but it does not change the fact that everyone has a personal life and sometimes there is not enough time for everything. Many people choose their works over the personal life and they feel like it's their duty but they are being left out of something really interesting and lively. This is a point when a photographer should think about taking a break or at least considering going to the retouch studio for a helping hand with a hope that they will restore the perfectly balanced life between the job obligations, personal relations and a simple time to lie down doing nothing or scrolling the Internet etc. The photo retouching rates of the Nude Retouching are worth considering it as your first choice in such matters, because our deep specializations and years of experience let us help the others and feel perfectly satisfied with our lives.
Like and share the post
You are welcome to rate this post
The post's average rating:
---