Elderly photography ideas - You are only as old as you feel
It is believed that a successful model can only be in her early youth, those who are a little "old", need to look for themselves in other professions. Is it really so? We picked for you the models which prove us otherwise. These ladies are not only denied the common opinion, but also proved the opposite: success in the modeling business if you want you can achieve at any age.
The most beautiful models under 50
1. Daphne Self - 83 years old
The title of the most elderly supermodels in the world rightfully belongs to the British Daphne Self, she is 83 years old. Daphne began her career as a model in the 1950s, when colleagues advised 20-year-old saleswoman of a Department store of the small town Reding to take part in a beauty contest. The daughter of a schoolteacher and housewife not only won first place but also received many job offers on the podium. However, having participated in several advertising campaigns, she decided not to pursue a career as a model – it seemed to her that she has insufficiently bright appearance, so it will hardly be a first in this profession.
Daphne got married, had three children and on the podium never thought. Offer again to try herself as a model she received in 1998, shortly after the death of seriously ill husband, whom she devotedly cared for several years. At that time Daphne was... 68 years old. Thus began the second stage of career Self – now she poses for Vogue, takes part in advertising campaigns for Moschino, Dolce & Gabbana, Procter & Gamble. And recently she even starred in a hot photo shoot. For a day's work she is paid $ 1,600.
2. Carmen Dell'Orefais - 80 years old
Experience Muse of Salvador Dali, American Carmen Dell Oreis, impressive – she is on the podium for the almost 70 (!) years now, it even made the Guinness Book of records. Carmen first appeared on the pages of Vogue at 14 years and still popular with fashion designers, photographers and spectators. On your first fees girls earned seven dollars and a half an hour -- he had his entire family that had very useful – parents Carmen was poor.
Dell Oreis have done an excellent career the model, but at 47, having three failed marriages and a daughter, thought seriously about how to proceed. It seemed to her that it is not necessary at her age to continue to go to the podium. But apparently, fate had a different opinion. At a party Carmen met her good friend, photographer Norman Parkinson, who had not seen for ages. He was amazed at the mature beauty and aristocratic elegance of the woman and asked her to do a photo shoot. It was a real triumph! Since then, Carmen is literally selling like hot cakes – famous brands, including Hermes, Donna Karan and Moschino, want to see her in her shows. In 1993, the model made its debut in cinema – she played a small role in "Age of innocence" by Martin Scorsese and has since been successfully in films and TV shows.
3. Jilly Johnson - 58 years old
The British chain of lingerie stores Debenhams came up with an interesting PR stunt: for the advertising campaign of the brand Reger by Janet Reger has signed an agreement with a 58-year-old model, which was already a face, or rather body – this marks exactly thirty years ago. Jilly says that he agreed to a risky shot in order to prove that in fifty years a woman may look no worse than twenty, even if she's wearing only underwear. "With age many things change in our appearance, says Johnson, is making women feel bad about themselves, they lack confidence, they start to get a complex. If this photo shoot will help at least one woman to believe in themselves, we can assume that I is done."
4. Marie Helwin - 57 years old
A native of the Hawaiian Islands Marie Helvin is 57 years. Once she was called the most beautiful woman in the world, but in fairness, even her detractors, if any she has, I must admit: it looks great. Recently, this could make the whole world Marie starred in advertising a new collection of underwear well-known brand Agent Provocateur. Her legs, waist and bust are the envy of even very young girls.
According to Marie, she has no children, therefore she has enough time that she can spend on herself – to care for your skin, hair, figure. Of course, it costs her some effort – she plays sports, does not smoke and sits on a strict diet. "I need to get into clothes of a particular – eighth, a standard – sized, so you have to keep yourself in shape." As for friends adult girls like Botox, Helvin is categorical opponent. Another secret of a beautiful appearance it is no frustration in love. The model recognizes that relationships are always avoided emotional intimacy that helped her save not only mental health but also beauty.
5. Ines de la Fressange - 56 years old
Call Ines de la Fressange solely as a model, it would be unfair. The French consider her a trendsetter, a style icon and a model of Parisian chic. She was awarded the title of Marianne (the national symbol of France) and the Legion of Honor is the main award of the French Republic. She has her own boutique and her own clothing line and perfume; she is a Muse to Karl Lagerfeld and brand Roger Vivier and advises Jean-Paul Gaultier.
But he started his career, Ines as a model, despite the protests of her father, a respectable stockbroker Anda de La Canard de La Fressange, and his mother, grandmother, Ines, heiress of the Bank Lazard Simone's Population. Apparently, the affected genes of the mother are known at the time of Argentine model Cecilia Sanchez Cyrus. Besides, girls were all required to podium external data – it was cute and the growth of meter 80 centimeters weighed only 50 pounds.
First it drew the attention of Thierry Mugler. But in the late 70's wasn't any fashion show in Paris, in which she was involved, and in the early ' 80s, she did an amazing modeling career, the first of mannequins signatory to an exclusive contract with couture House of Chanel. This marked the beginning of his long friendship Ines by Karl Lagerfeld, for whom she has become not only a favorite model, but a Muse. A friendly and creative relationship bound them for fifteen years until, in 1989, Lagerfeld and Ines had a falling out. The master didn't like that his favorite model agreed to pose for a national symbol of France – Marianne, he stated that he "does not intend to decorate the monuments."
6. Yasmina Rossi - 60 years old
One of the most popular models it's 60 years old, originally from France and lives in the United States. Fundamentally she does not paint long white hair, considering the naturalness of her main advantage, shooting a commercial fashion brands such as Hermes and Yves Saint Laurent. And the company Marks & Spenser generally made her the face of the brand than very proud.
7. Linda Rodin - 67 years old
If you sleep at least 10 hours every day, then you are guaranteed a stunning look, as 67-year-old Linda Rodin. All her life she worked as a stylist and model was just retired. It is not exactly to gardens and garden beds. She is stylishly dressed, removed in advertising of famous brands, created her own line of cosmetics. And Linda and Yasmina Rossi support of natural gray hair and an opponent of Botox.
8. Buddy Winkle - 87 years old
She was 87 years old and knows about it practically the whole world. Believe it or not, she has in Instagram about two million subscribers! And it's all thanks to her granddaughter, which was once featured in the popular social network a 15-second video Granny, twisting the joint. New photos of Buddy are all waiting with interest, because she lives so active a life that she may well envy the young people. A woman constantly on the move – goes to clubs, has an advertisement of swimwear, participated in a television talk show and regularly rest on beaches and around swimming pools.
Elderly photography ideas
You have seen that not only young people can have wonderful photo shooting and special at style nude or boudoir. You've read a lot of information about famous models and here you can read about the best boudoir photos of celebrities.
Of course elderly can also take part in different photo sessions and we prepared some interesting information about photo projects with elderly people or some elderly photography ideas.
The world of photography is so varied that, perhaps, have many ideas of shoots was carried out in reality. But no one until London photographer Moore Vidler not keen on photographing the elderly. You now might think that he's doing photo shoots regular old folks, but it's not. His contingent is informal old men who make your life brighter, and along with others. Vision presents to you is a project that lasts for several years.
These elderly photography ideas visited Vidler, when he was sitting in one of the local clubs where alone dancing 60-year-old Adrian Delhi. All anything, but the man was dressed in leather pants.
The first thought, which was at that time at Moore in the head, "well, he's not my father who sits in front of the TV in the cookies". At this age, to give out things which sometimes cannot make the youth definitely deserves respect. Then the photographer decided to start a project in which informal photographs exclusively the elderly that affect their margin.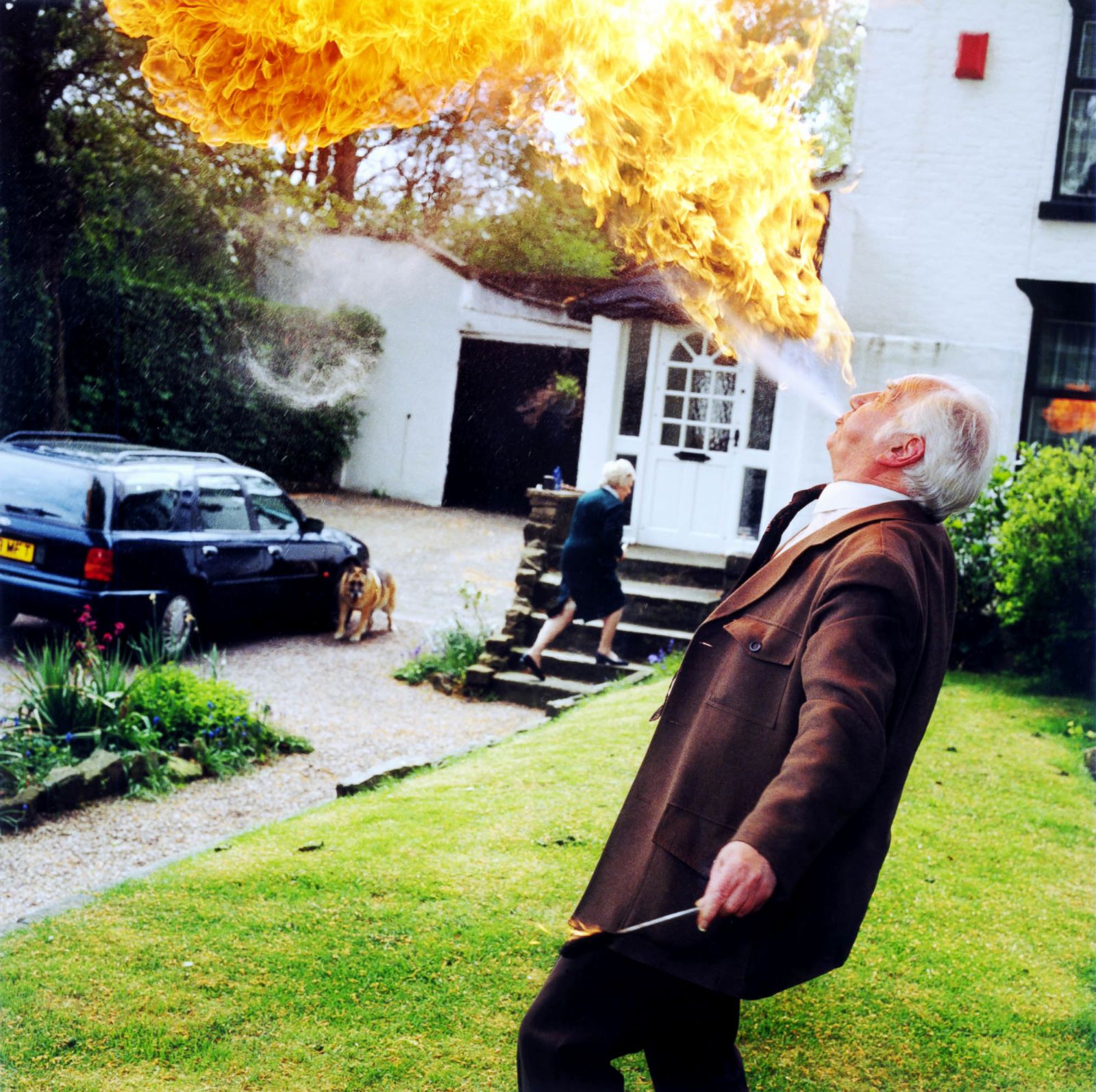 Unfortunately, every day we are getting closer to old age. But it shouldn't make a problem. Most importantly is that in your heart you will always stay young.
Talented American photographer Tom Hussey decided to show the elderly that they are still young at heart, creating your photo project called "Reflections". These interesting frames he displayed in the mirror the real face of these elderly people. They are just outside of their body has changed. Tom built this project under the motto "Beauty is not aging, getting older body." And he was not wrong.
But these pictures have another mission. To tell you about a special band-aid that helps the elderly fight Alzheimer's disease in its early stages. Here is a useful and touching project. Tom Hussey – whiz. You must agree these pictures are difficult to name just an advertisement.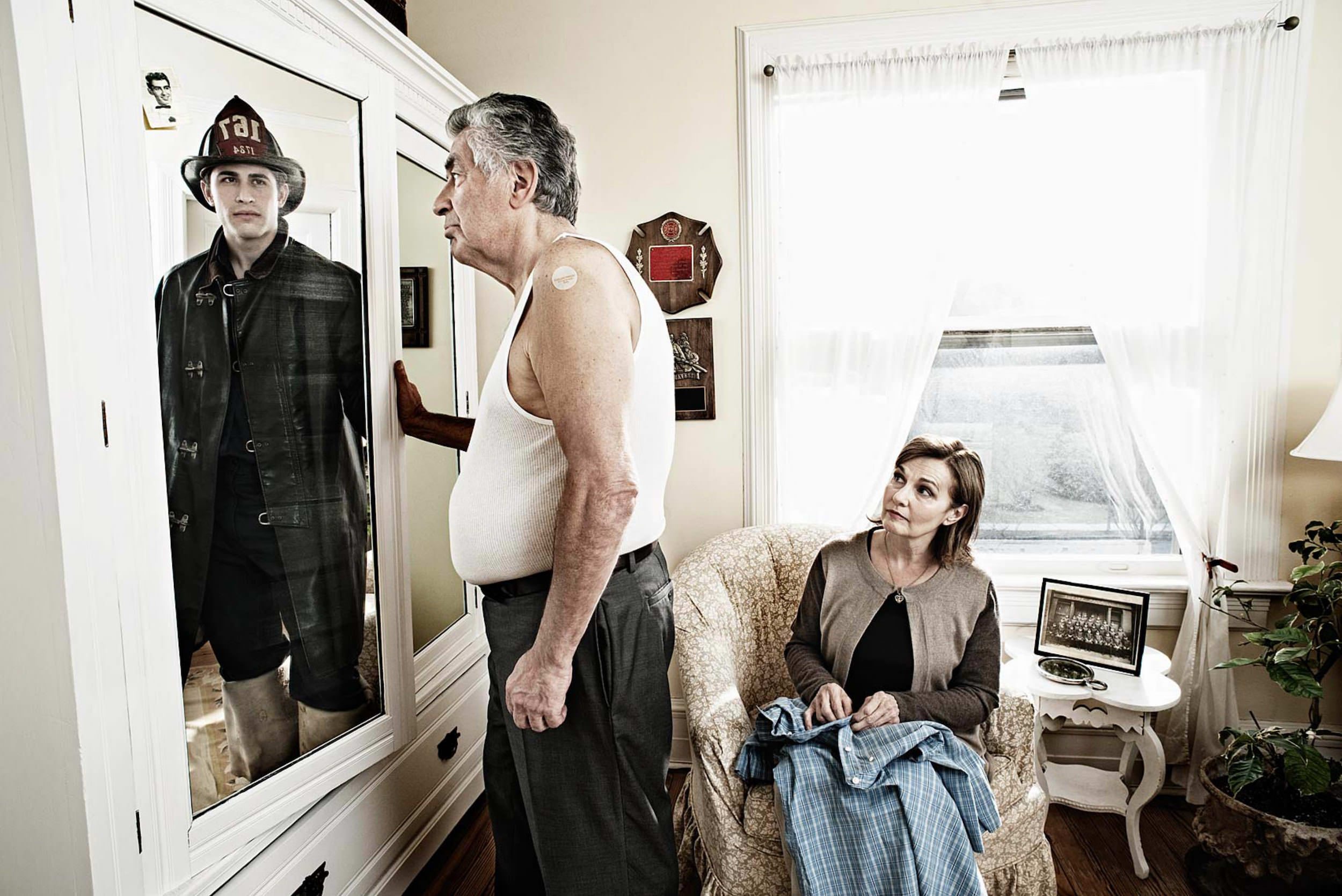 In these photos you see really happy people who do not think of your age. They do crazy things and make crazy photos. Ideas pictures can be very different and bold and to approach both adults and young such as stylized photo shoot as Christmas Nude Photographs or it can be a great present for people who are married for 20 – 50 years or for a young family it is Partnership proposition for professional nude or boudoir photographers.
So we wrote about elderly couple photo shoot and what do you know about such photo sessions? We manage to tell you the most important information in this area.
Photographing elderly couples
It seems that when people come to retirement, the feeling of love between people who very strongly love each other should fade away. Or in old age it is impossible to love again as tightly and tenderly as in his younger years. But love it for all ages. You can love and be loved in any period of our lives.
In the world, much can be admired, but some of the most intense emotions are awakened at the sight of an elderly couple showing preserved through the years the love and affection. We will give an example of photos that prove that love exists and it can be carried through all the hardships and troubles.
It can be a completely different photo shoot. For example photo shoots in places where you spent your youth, where you met for the first time together or went on vacation.
The couple can return in youth and do crazy things. It looks really great in the photo.
They may look funny and very sensual at the same time. Love that lives so much of time in spite of all the difficulties and hardships really deserves respect.
If women are worried those years later they look not so attractive. The skin retouching online will help them, it will take a picture of an incredibly beautiful, will remove all the defects but leave it natural. More information about retouching and some mistakes in it you can find here skin retouching techniques.
Such retouching would require courageous couples who want to recollect the youth and to do some crazy photographing elderly couples as Naked wedding – Best nude photo editing examples.
Because years later, people continue to love each other and do not get tired to show each other that love making gifts. Such elderly couple photo shoot will be a good and funny surprise on the anniversary of marriage, and body retouch will help you look even better than in youth.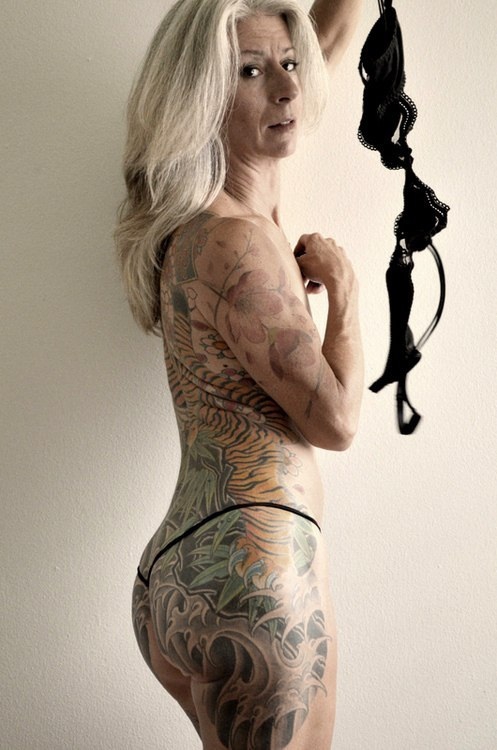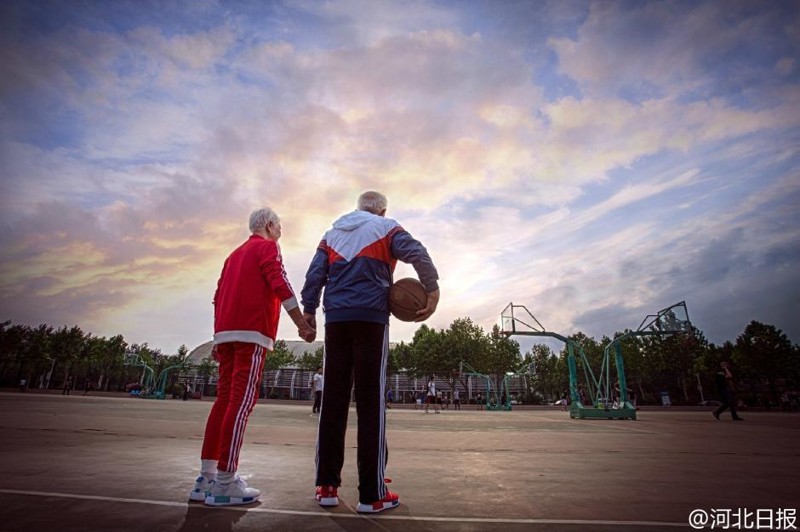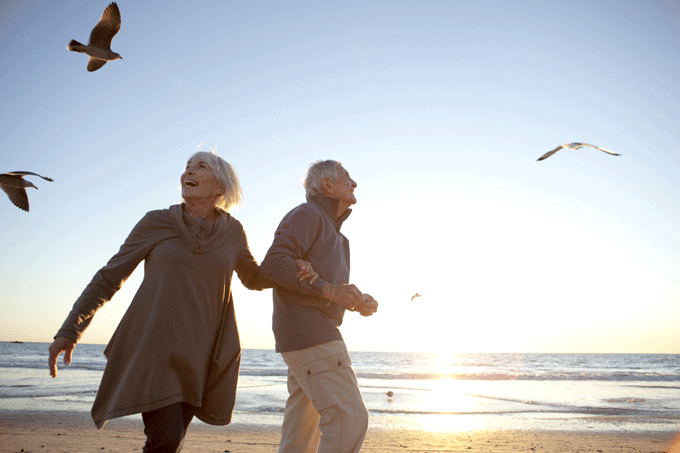 We wrote a lot about photographing elderly couples and nothing about poising, but it is also very important.
Posing older couples for portraits
In the group of pictures plays a major role connect, communicate, and primarily the feelings between people. I think that these deep and tender feelings make working with couples is so exciting and positive.
Usually elderly couple photo shoot is quite easy. If at first they feel shy or feel uncomfortable, simply ask them to show you how they looked and felt during the first meeting. You give them a reason to move to a completely different emotional level that will allow you to capture the natural and loving expressions on their faces.
1. A simple posing older couples for potraits. They should stand facing to each other and look at the camera. A woman is laying her hand on the chest of a man and pictures are taking as close as possible.
2. For a very touching personal photo, the couple should get close to each other. To take a photo it is necessary as close as possible in spite of cutting off the edges.
3. Nice atmosphere will pose when he would stand behind her and gently hug at the same time. They can also kiss to enhance the tenderness of the photo.
4. Incredibly light and natural posture when she hugs his shoulders. But a woman should not feel stress; otherwise her arms will not be natural.
5. Photography in nature will create an incredibly romantic atmosphere. You can take a pair off the back in the beautiful scenery, for the best effect they can hold hands or use different objects. But do not forget to remove their emotions, so that the photo is not soulless.
6. To make your photo look unusual use your creativity and find an unusual angle for shooting, it's very interesting to look at photos from a height.
7. Do you want that everyone who looks at the photo could not help crying from such a touching pose? Use for this nature and its beauty, the photo on the sunset background will look just fascinating.
8. And what about the atmosphere of comfort and tranquility in the photo? For this you will pass nothing better as this pose.
9. What can be nicer than meeting two lovers? Pass these emotions through a kiss and no one will remain indifferent.
10. Couple lying in each other's arms. Ask them weight on hands and lift the body. It can soft to hug her. Shoot from a lower angle.
We hope our tips have helped you with posing, but use them only as a basis, develop your posing older couples for portraits creativity.
Main steps in elderly couple photo shoot
One of the greatest challenges in portrait photography is portraits of people of the older generation. There are plenty of challenges, from wrinkles and age spots on the skin and ending are not always docile nature of the elderly person. Add to this the fact that many representatives of the older generation don't like it in principle because of lost attractiveness.
Talk to an older person, ask them to tell something emotional, something beautiful story of life, make him forget about his old age. We want the model in any way; tell us your vision frame. Try to come up with a theme, which will be nice for discussion.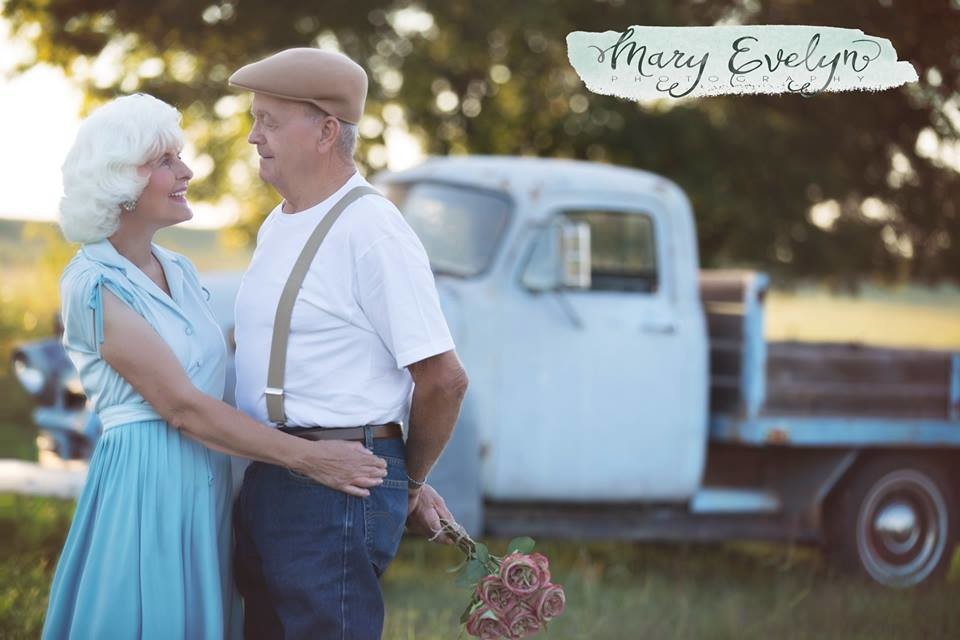 Here are some practical tips on "How to photograph seniors":
First
Select the concept of your picture. It should be a picture of the older person, which will accentuate his age and wisdom, or rather the age you want to hide? What is the mood supposed to be in the picture (sadness, joy, pride, etc.) it would be Good to have an idea of what you want to end up, otherwise you will procrastinate in finding a solution and eventually will get not what you wanted.
Second
Wrinkles, altered pigmentation, and shinier surface of the skin, the deep shadows of the eye sockets and cheekbones – Yes, old age is not joy. Then you need to ask yourself the question: need to show the age or hide it? How do you photograph an elderly person will depend on this choice.
Third
When you are photographing an old person, the lighting varies a lot. So, you chose whether you want to hide wrinkles or, on the contrary, show the venerable age of the man in the portrait. Here the rule "the more light the better" only works when we want to show the structure of the skin to identify wrinkles, to show the character of the elderly person. If, in the frame we want to minimize the number of wrinkles and smooth out skin blemishes, you should use as little light. For example, you can use natural light from a window – put an elderly person in front of the window at a distance of 2-3 meters and you will get what you wanted.
Fourth
Color or black-and-white photo, which one will you choose to photograph representative of the older generation? Many photographers believe that the elderly are better to photograph in black and white. Thus, in the picture get sharper shadows, and sharper lines, to reflect the nature of the elderly person. Will notice right away that with color photos need a little more to sit in Photoshop, but they are no less expressive. Although each type has its own advantages and disadvantages. If you do not know what to choose, try both.
Fifth
Clothing, which is dressed elderly man during shooting, also plays a very important role. If you want to display representative of the older generation as he is, obviously, you should not ask an elderly person to change. If you are faced with a different problem, you can ask the model to dress in something appropriate, for example, dress uniform with medals. Match colors clothing is up to you, but don't forget that colors are not for everyone. Some older people dye their hair. If you are photographing a person with lots of gray hair, does not hurt to add a little color to the frame, for example, using colored light, otherwise the model can get "lost" in the frame.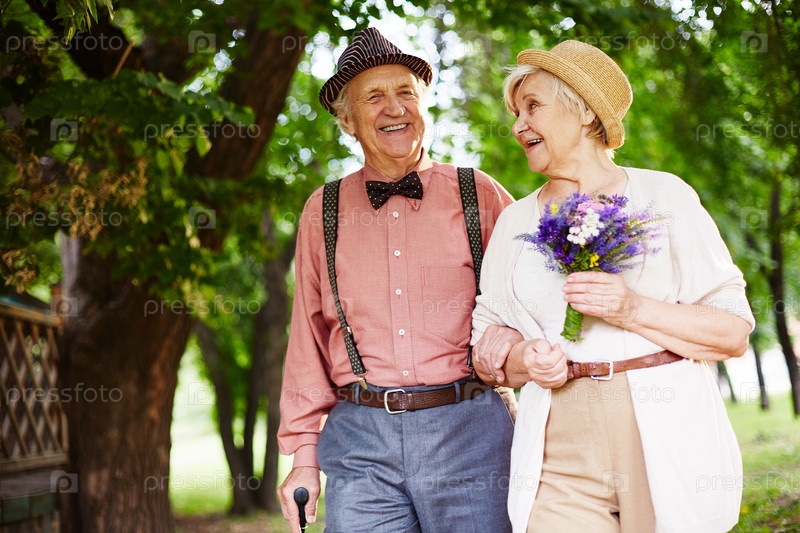 And of course don't forget the equally important step is retouching photos. Consider what style you want to edit a photo and of course on this will you be able adequately to make customers satisfied.
Our professional retouchers will help you in the editing process, we work with each clients individually, while maintaining his style and doing all of his recommendations and suggestions.
We have extensive experience in this field; examples of photo post processing you can see in our digital retouching portfolio you can also find in our blog some tips for example about how to take a perfect selfie and interesting articles about new trends in nude photography such as photography trends. We can say that our photo retouching rates are not expensive, depending on the complexity of the photos, and think how many photo shoots you can do in the saved time while we process your photos.
Like and share the post
You are welcome to rate this post
The post's average rating:
---