Swimsuit model photography - Top models & photographers
Endless summer…we`re all looking forward to this time of the year to make bikini photo shoots, especially after cold winter and whimsical spring. Swimsuit model photography is very popular with people of all the ages and nationalities, thus photographers are quite busy by shooting such kind of photos. Everybody wants to look mesmerizing in bikini or swimsuit in the picture and thus shooters and retouchers are ready to make the most of the opportunities to meet the demands of their clients and show the best and most wonderful results. There exist some outdoor glamour photography tips that are necessary for the professionals to know in order to achieve superb results that further may be added to digital retouching portfolio like we have. Besides all theoretic component of preparing to photo shoot, we want to present you some sources of inspiration, like the following video with bikini photo shoot ideas that are widely used nowadays and backstage.
Outdoor glamour photography tips for enriching knowledge
Every professional knows that planning is crucial as this procedure helps to avoid all trifles that only may happen in haste. We want to save you from such drawbacks that you might do from scratch and present you with the most important things that you must take of before organizing bikini photo shoots.
First, that should be mentioned is location. You need to choose appropriate places where it would be comfortable for you to shoot. They need to be always at hand, since in such a way you will spend less time searching for the location. The time your clients have desire to work with you –your task is to recommend a set of locations, because it is pleasant for them to realize that you care about them and are always ready to come with a suitable solution. Swimsuit model photography business has its own peculiarities and you should have the wide choice of places that will underscore all the advantages of the models in swimwear.
You should pay careful attention to the degree of secrecy for carrying out a quiet and saved shooting. You must be confident that you and your client will not be disturbed, as that will help his/her to feel relax. There must also be a place where model`s clothing, in our case swimsuit, could be changed. Pay attention to what days and time the beach at sea is the least crowded. Children, animals and people bathering on the background should not interfere with your photo session. So, try to avoid unwanted "people" in your photos. Still, if you have captured some of the unwanted heroes, remember that they can be eliminated by digital editing at reasonable photo retouching rates in our highly appreciated company.
In terms of locations, another advice for you is to travel as much as possible. Your clients may be interested in How to become a model: Tips, new trends and model poses for photo shoots and having in mind eye-popping and attractive beaches as locations to offer it would be easier for you to help them.
Professional shooter is sure to use professional photography gear and the next tip concerns equipment. You need to follow the KISS principle (Keep It Simple) and also Keep It Sand Safe. It means that you don`t need to take much gear and of course need to put it in special bags to avoid sand invasion.
As for the camera you don`t have to use cutting-edge equipment because the sunlight does its job. For instance, you may use Canon 40 D and as for swimsuit model photography this camera suits perfectly. It is advisable also to take back-up camera as you need to secure yourself. If you drop the camera in the water you won`t be happy, but if you lose an amazing photograph it will be a great disappointment.
The next thing is having a strict plan. It is extremely essential to plan the sequence for your session. We mean those particular cases when the model should lie on the sand or sit on a rocky shore. These locations inevitably may spoil model`s clothing or hair-style. Sometimes a lot of time is wasted or it is almost impossible to remove effectively the sand that sticks to the body of the model. The same situation is with photos in water. If a model is shot in water, photographers should take into account wet hair and clothing that look not always attractive. Judging from the perennial experience of photographers, the best idea is to leave them for the end of photo session. This way your model will have an opportunity to choose swimsuit photoshoot poses both in dry and wet clothing.
Notice that the most successful time periods for providing photo sessions near a sea are morning and evening. The most alluring models look on the background of a sunset. Especially that near a sea sunsets look the most wonderful. But still, you should not forget that the sun sets too quickly and you will have only 2-3 minutes to take shots with the most suitable lightning.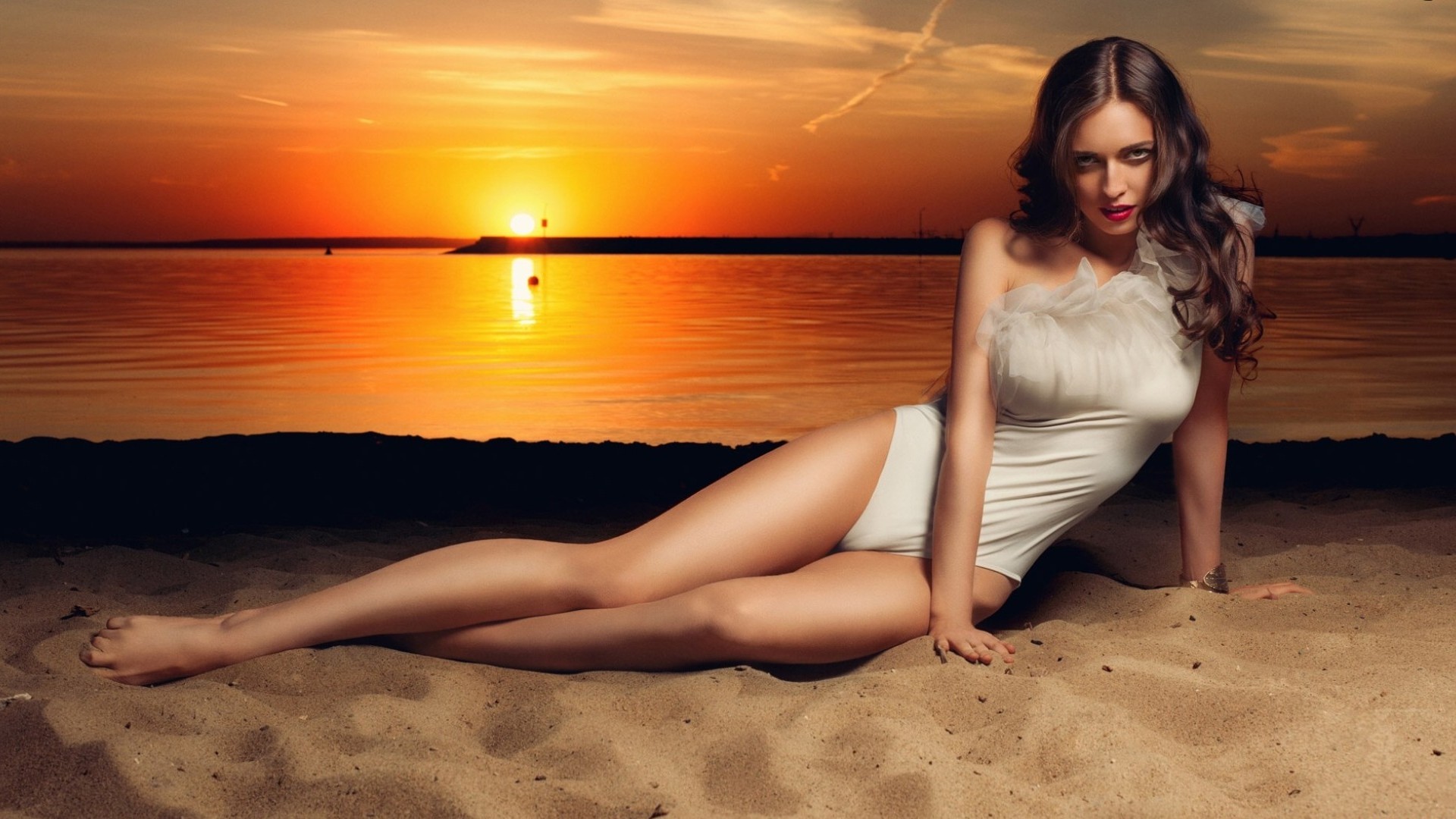 Also take care about accessories. Modern swimsuits that contain excessively reflective accessories, such as gold or silver chains, bracelets or buttons ideally should not be used for photo shoots in case you are eager to get superb pictures with the most successful swimwear model poses. They produce unattractive highlights when they are exposed to sunlight making to bright spots in taken pictures. This also makes it difficult for photographers to control the amount of light passing through the lens. And even the most professional and expensive equipment will not solve this problem. Besides, models should consider that bikini with sparkling elements is not in fashion anymore. Thus, advise your models to throw them away and get fond of minimalism.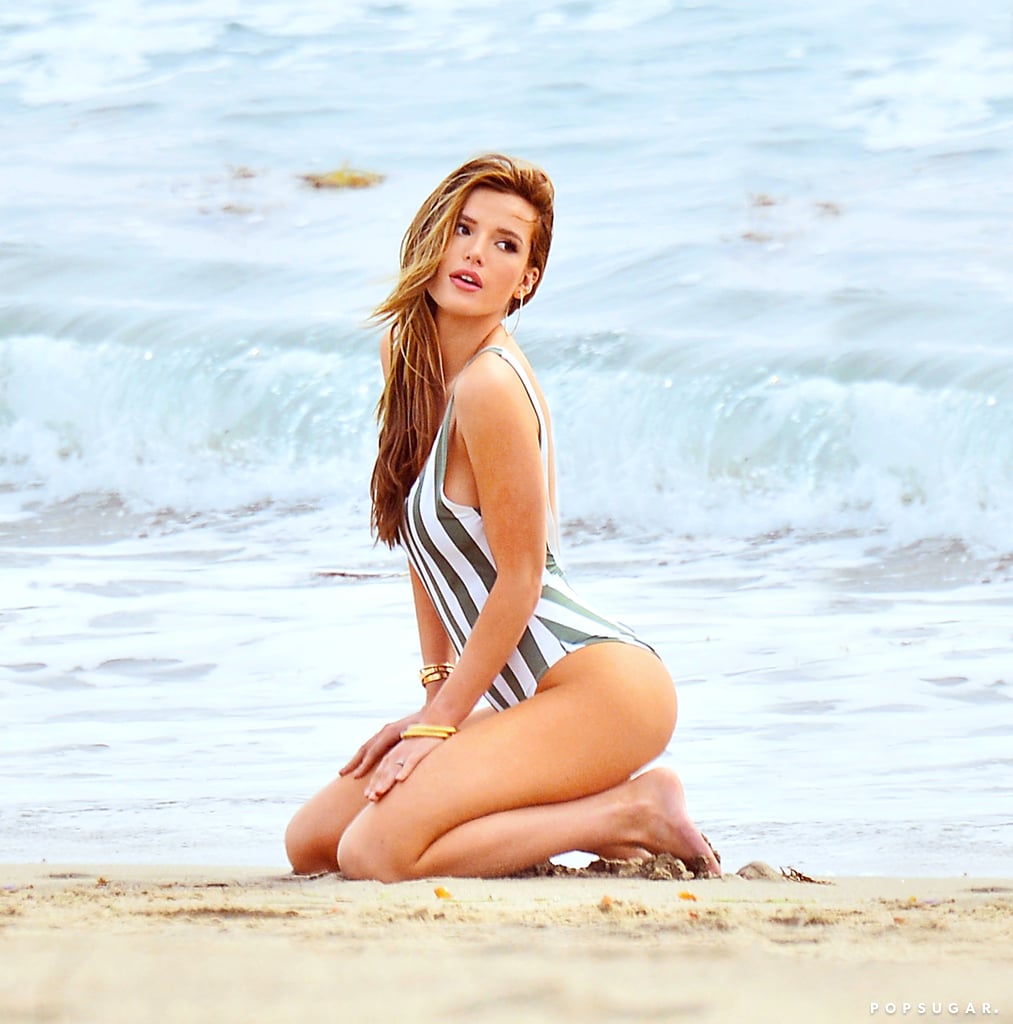 The next thing is clothing before photo shooting. Lots of glamour photo shoot ideas contain one requirement. A model should have ideal figure and skin without imperfects. It is quite necessary that the model you work with wore loose clothing at least two hours before the session. Why it is so helpful for future bikini photo shoots.
By doing this every model will not leave any marks on the skin from the strap, bra and other parts of the clothing. Keep in mind that time means money both for you and your client. Thereafter waiting for the disappearance of unsightly tracks is a waste of time. Careful planning with overthinking of all little trifles will reduce the amount of work that you, as a photographer and editor, have to do while responsible editing photos on the computer screen trying to achieve the best. This secret will minimize your efforts devoted to skin retouching.
Get sure about a model`s suntan. If a model that you make photos of is interested in getting a perfect tan on the planned shooting day, you should be sure that it has been prepared before a photo session. To do this, models are recommended to use a strapless bra. In case it is too long and tedious for them, it is preferable to ask for professional spa. That will guarantee having perfect suntan without any white stripes that will spoil every look, even the most carefully planned.
Advise you model to take care about her hair style. Thorough attention while preparing to photo session on a beach should be given to the hairstyle. Loose hair suits for them the most ideally, so it is enough to wash and arrange hair on the eve. Remember that minimalism is always in trend, so keep to it, as you are the person that is responsible for the beauty of your model.
We hope that these outdoor glamour photography tips will become helpful for you in case you are planning unforgettable beach photo session. As soon as every detail has been carefully planned, it is high time to consider bikini photo shoot ideas.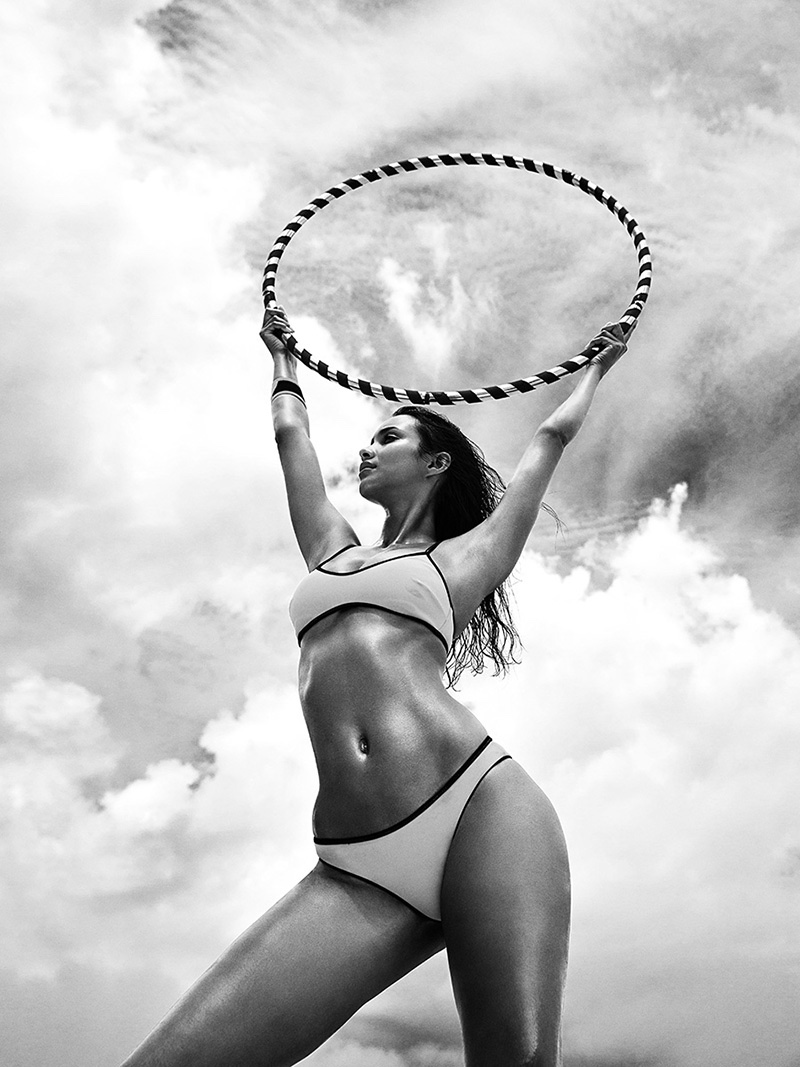 Glamour photo shoot ideas that help inspiration
Besides, careful planning and expensive equipment not less important are swimwear model poses, as these are the first that every viewer mentions. They in combination with unusual ideas result in awesome photo session with unrivalled results. Want to have the same? Then just follow the pieces of advice before or use them as a great basement for your own unique ideas.
1) If possible involve animals
This advice is suitable for really professional photo shootings that have not strictly limited budgets. Usually, they are organized for various advertisements and fashion magazines. The most popular animals are, of course, animals.
These fantastic creatures are associated with the wave. We may easily imagine unrestrained horse with a model holding it, not forgetting about right swimsuit photoshoot poses, on the background of boisterous sea. Still, in case you are not able to afford to have a horse, such animals as parrots, dogs or some little wild ones may also contribute to your success. Thus, be opened to experiments.
Of course, it is not easy to involve an animal to the shooting, but the result is worth it. It's already worth interacting with your animal partner during a photo shoot. Treat the animal as an equal, but not as an interesting object and get the appropriate feedback.
2) Find a boat
Yes, this item may also be interesting on final photos. You may choose an image of mermaid for you model. Still, notice that to turn this idea to life you will have to collaborate with makeup makers. But photo outcomes are really worthy all these. In addition, your model may use an image of a shipwrecked woman.
She may pretend that she was thrown ashore. Believe us that this image gives a wide field for experimenting with posing to choose the most realistic swimsuit model pose. One more peculiarity is that with such fantasy photo shooting, you will need professional editing in order to make the image realistic and completed. And here body retouch will play the central role.
3) A model is a goddess
You should do everything in order for your model to feel free, relaxed and hot. She may sit back on the stone and leave her body to the camera. One hand can run into the hair, as that will give the image even more passion. She can also play with her legs, arranging them in different positions: one is bent slightly, the other is remained in a relaxed straightened state.
4) Try underwater photos
Currently underwater photo sessions are on the top of their popularity. There are lots of professional and specially-equipped cameras that can be used for it. Still, for this kind of bikini photo shoot ideas you may not use an amateur model as that will be a waste of time. Take in mind that implementing swimsuit photoshoot poses is double as difficult as on sandy beaches. So, appreciate this professionalism.
5) Sports in action
Versatile activities on beach such as yoga, beach volleyball, aqua aerobics and surfing may become cool basement for your photo session. Any lively activity on the beach, any sporting activity can be captured with the camera. Such photos are always pleasant due to their passion. Greatly will be to dress a model in a common swimsuit and shoot as a real sport woman. The biggest bonus is that you will not have photos with stable and stereotyped swimwear model poses. The whole photo session will be in motion.
6) Use interesting accessories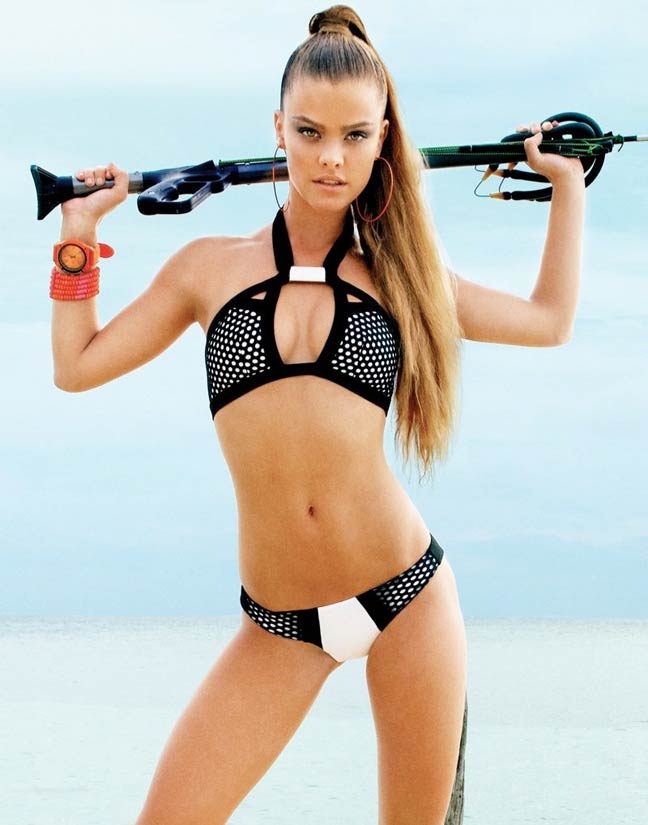 It will be amazing if you use some hand-made things, preferably on the sea theme. Here everything depends on your imagination. It may be a little model of a house, dolls or toys. Additionally, seashells, seaweed and starfish are also a good idea in order to underline the chosen theme.
7) Add splashes!
Who have convinced you that glamour photo session must be always serious? Ruin this! Splashes and games in waters are the simplest to be captured. And in majority of cases you will get amazing shots. The only problem is that after photo session you will have to choose successful shots out from tons of them. But believe us, the most brilliant one you will take accidentally.
8) Make photos with birds
The simplest solution will be to find seagulls and make them the part of your photo shootings. They will bring a feeling of freedom and unusualness to your work. In case, seagulls are too boring and predictable, pink flamingos will be just for you.
Try glamour photo shoot ideas that celebrities choose
Want to find the most wonderful, ideal and suitable swimsuit model pose that will be unique and simple at a time? Then, viewing how do varied celebrities organize beach photo sessions will be great for you. Be sure that stars are so deeply concerned about their image that every their photo session is an example of big money and excellent choice. Thus, you may rely on their ideas and taste without any fears.
Jessica Alba
Young mother Jessica Alba, who was repeatedly recognized as the hottest actress, even after the birth of two children looks fantastic! Perfect posing and the swimsuit that suits her ideally prove this fact.
Models from Viktoria Secret
These models are known all over the world due to their beauty and unbelievable figures. They know how to choose an exactly ideal swimsuit model pose in order to steal men`s hearts.
Due to their beauty and perfect body shape they can be named as icons of bikini photo session. Therefore, if a woman needs to have a great example of how she can look like during a photo session, she chooses their pictures and does everything to be like they.
Irina Sheik
One more example of mind-blowing figure and talent in posing. Just like with only one seashell and magnetic look a photo becomes unique.
Malaika Arora
A cool example of underwater photo session. It shows how difficult is it to choose the right posing and not forget about face expression. Really, this photo can be a convincing motivation for models that have not tried this style.
Michelle Buswell
A great example of posing in motion. During such photo sessions people may assess the genuine beauty of model`s figure and especially muscles as well as to enjoy the fashionable swimsuit. Besides, in case you want to enrich knowledge in providing motion shooting, the article The language of your body - Dance photo shoot tips to make a masterpiece.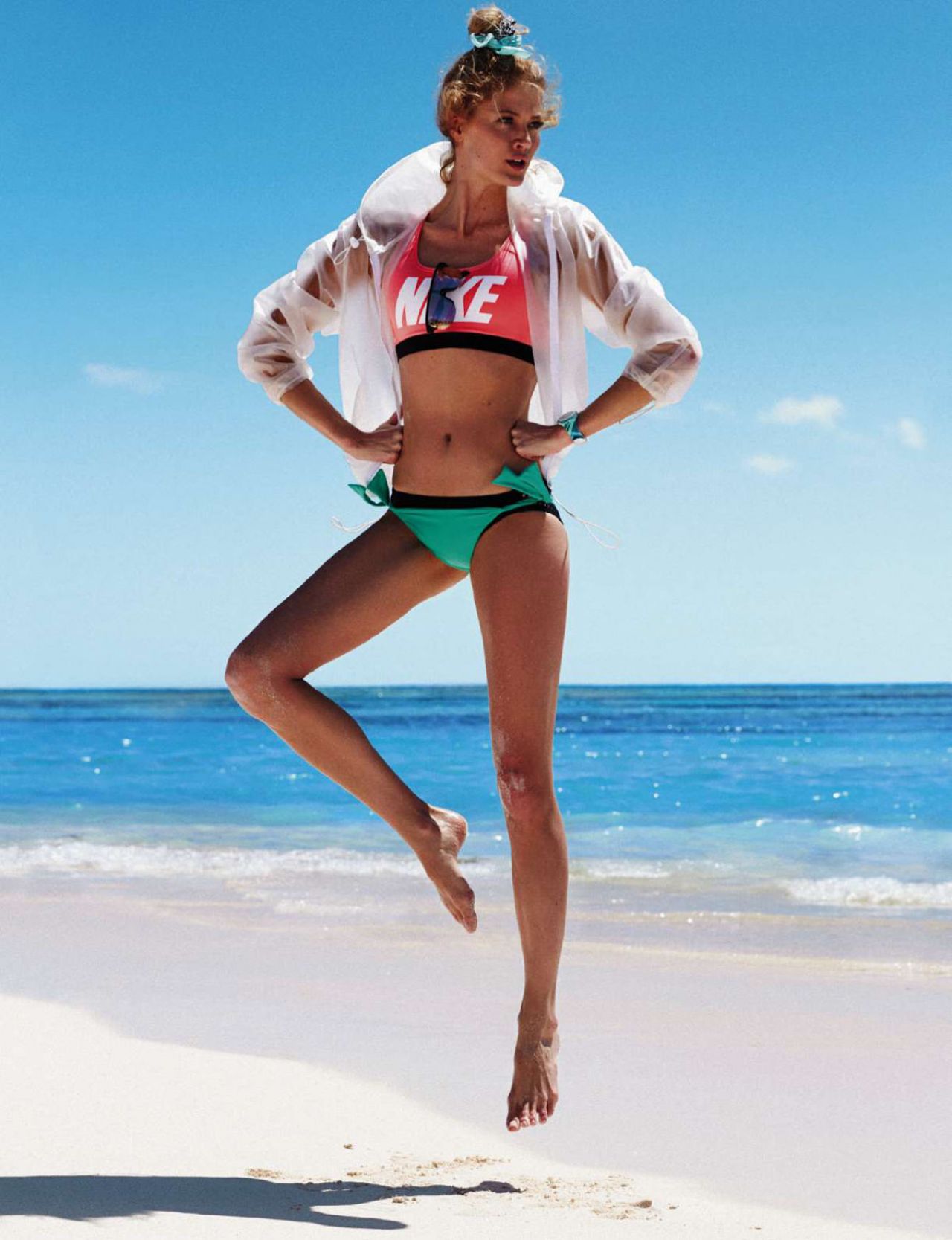 All in all, your success depends only on your imagination and readiness to experiments. To follow brilliant examples is definitely cool, but it is much better to invent something that nobody has tried before. Do not have fear of mistakes as all of them can be masked with digital editing. For instance, in our company we proffer all services that are demanded in nude sphere. But the most popular is skin retouching online as beauty of a body is the most essential. So, the world is expecting your future masterpieces.
Like and share the post
You are welcome to rate this post
The post's average rating:
---